Sarah Palin: My political crush on Marion Marechal-Le Pen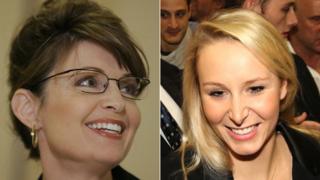 Former US vice-presidential candidate Sarah Palin has said she has a "political crush" on Marion Marechal-Le Pen of France's National Front (FN).
Ms Palin, writing for the conservative news website Breitbart, described the Frenchwoman as "a clear voice of courage and common sense in a country and continent in need of both".
The young far-right candidate reminded her of Joan of Arc, she said.
The FN failed to win control of any of France's regions in Sunday's elections
Ms Marechal-Le Pen came second in Provence-Alpes-Cote d'Azur.
The Socialist candidate withdrew as a tactical manoeuvre to ensure the FN did not top the poll.
Ms Palin, who was John McCain's running mate in the 2008 US presidential election, highlighted the achievements of both Ms Marechal-Le Pen, 26, and her aunt, FN leader Marine Le Pen.
French elections - in depth
Marion Marechal-Le Pen and France's far-right charm offensive - A fresh face with a familiar name
Le Pen condemns 'campaign of lies' - FN leader Marine Le Pen defiant after loses
Who comes out of French elections smiling? - No party has reason to cheer
Vive la difference - has France's National Front changed? - At the very least, its supporters have
She praised the younger French politician for being "unapologetically pro-life" and for speaking of "France's 16 centuries of Judeo-Christian history and heritage".
The Tea Party favourite writes of the threat to the West from the so-called Islamic State group and the suspicion by French authorities that some of the Paris attackers - European citizens - travelled to Europe from Syria by posing as refugees.
"Our insane politicians want to import more so-called 'refugees' ... This is why we need to seal the borders," Ms Palin writes.
"As Marion faces the political battles ahead, I wouldn't be surprised if she says a prayer to France's patron saint [sic], for Marion is a reminder of her - Joan of Arc."
Ms Palin, a former governor of Alaska and conservative activist, said in September she would like to serve as energy secretary under a potential President Donald Trump.