Migrant crisis: Peta sends donated fur coats to Calais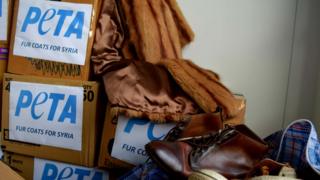 A UK-based animal rights group is sending fur coats to migrants and refugees in the Calais camp known as "the Jungle", the group has said.
Refugees facing harsh winter conditions "are perhaps the only people with any excuse to wear fur this winter," Peta said.
According to Peta nearly 100 coats and dozens of leather shoes were donated.
Thousands of migrants have been camping in Calais, trying to get across the Channel to the UK.
Some of the coats and shoes will also be sent to camps in Syria.
"While we can't bring back the minks, rabbits, cows, dogs and other animals who were slaughtered... we can help refugees who are struggling to survive," the group said.
Peta runs a donation programme throughout the year and often donates the fur coats they receive from people "who have chosen to drop the cruelly produced items from their wardrobes" to homeless people.