Turkey Istanbul airport blast kills cleaner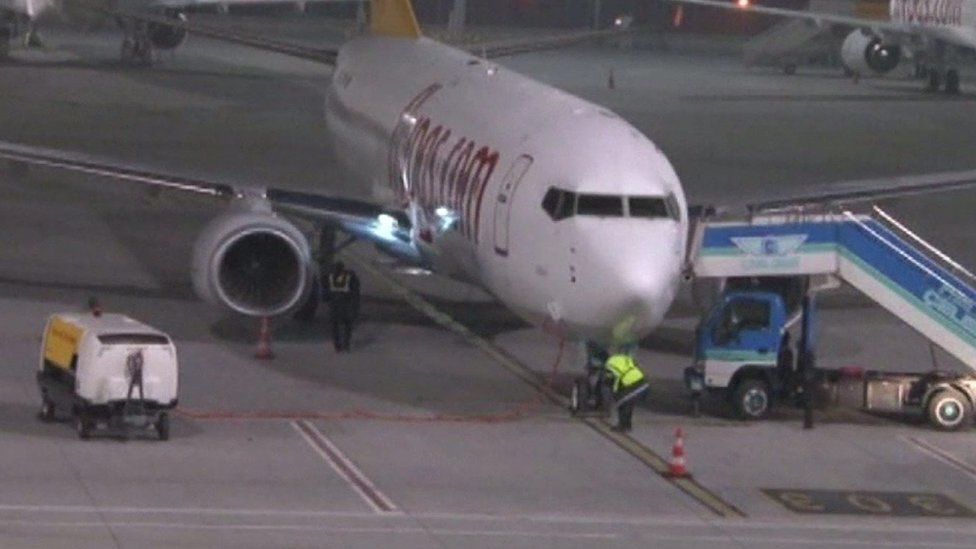 An explosion on the tarmac at Sabiha Gokcen airport in the Turkish city of Istanbul has killed a female cleaner.
The woman who died was working on a Pegasus airlines plane overnight when the blast took place. A colleague who was with her was wounded.
The cause of the explosion is under investigation, the airport says.
Armed police imposed tight security at the airport's entrance, Turkish media report, but flights appear to be running normally.
The woman killed, 30-year-old Zeyhra Yamac, died of head injuries.
It said the explosion had happened at 02:05 (00:05 GMT) on Wednesday. Although the cause of the blast was unknown, police were investigating whether it was a bomb, Dogan news agency reports.
Fragments from the blast damaged five other planes, Turkish Transport Minister Binali Yildirim said.
"[A] weakness in the airport's security is out of the question," he added.
Some witnesses claimed to have heard three consecutive explosions.
Located on the Asian facing side of Istanbul, Sabiha Gokcen is the city's second-largest airport after Ataturk airport on the European side of the city.