Spain cocaine seizure: Eleven held in Galicia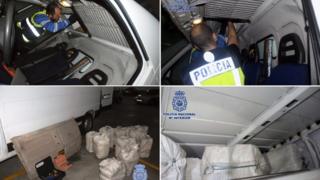 Spanish police say they have seized three tonnes of cocaine and arrested 11 suspected drugs smugglers from Britain, the Netherlands and Spain.
The drugs were found in a van in a warehouse in the north-western Galicia region after a tip-off from the UK National Crime Agency.
They are thought to have been bound for a smuggling ring in the southern Costa Del Sol.
It is the largest seizure in the region for 17 years, police said.
Officers also found one million euros (£730,000) in cash, and a gun.
Spain is a major entry point into Europe for drug smugglers from South America.
Giving details on the latest raid, police said the people who were detained included "those transporting the merchandise, who were Spanish, and the sellers and buyers of the drugs, who were Dutch and British respectively".
The raid was carried out on 14 December, but under Spanish law details were only made public on Tuesday.
Seven Britons were arrested in Galicia and Malaga and they included five men from Liverpool - two aged 47 and the other three aged 31, 34 and 59 - a 41-year-old man from Kingston, south-west London, and a 50-year-old man from Thornbury, South Gloucestershire.
Two Spaniards and two Dutch men were also arrested.
The UK National Crime Agency said the British gang had paid 500,000 euros (£360,000) for the first 700kg of the drug, which was due to be driven back to the UK.
Last month Spanish police discovered more than a tonne of cocaine disguised as wood and charcoal arriving on a shipment from Colombia.
In November, they announced the arrest of British man Robert Dawes, accused of running Europe's largest drug-trafficking network.