EU judges convict Kosovo Serb politician Ivanovic of war crimes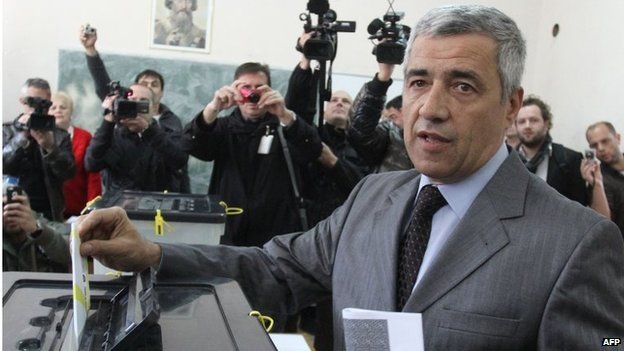 Leading Kosovo Serb politician Oliver Ivanovic has been sentenced to nine years in jail for war crimes by judges from the EU's rule of law mission.
The 60-year-old encouraged the killing of ethnic Albanians by Serb paramilitary forces during Kosovo's war of independence from Serbia in 1999, the judges ruled.
Ivanovic, who is considered a political moderate, had denied the charges.
Serbia's deputy PM said the verdict would heighten tensions in Kosovo.
"Those Serbs living in Kosovo will start thinking: "If Ivanovic, a pro-democracy advocate, deserved this, then what about us?" said Rasim Ljajic.
Ivanovic will remain under house arrest pending an appeal. The court acquitted four men accused alongside him.
'Expulsions and killings'
Ivanovic, who was leader of a paramilitary police unit in 1999, was the first senior Kosovo Serb official tried by the EU's Rule of Law Mission (Eulex) in Kosovo. He was arrested in January 2014.
Tribunal President Roxana Comsa, reading out the verdict, said he had known that "an operation of expulsions and killings of [ethnic] Albanians was under way" in the northern city of Kosovska Mitrovica in 1999 amid Nato bombing.
"He encouraged paramilitaries to commit this crime," she said.
The 1998-1999 conflict began when ethnic Albanians rebelled against Belgrade, prompting a brutal crackdown.
Some 120,000 ethnic Serbs remain in Kosovo, which declared independence from Serbia in 2008 and which counts 1.8 million inhabitants, most of whom are ethnic Albanians.
The 40,000 or so Kosovo Serbs living in the north do not recognise Kosovo's independence. Serbia also rejects Kosovo's secession.
Despite this, Kosovo has been recognised by more than 100 countries, including the US and most EU states.
Countries which do not recognise its independence include Russia, Spain, China and India.
Eulex has the power to take on sensitive cases that the local judiciary and police are unable or unwilling to handle.
Related Internet Links
The BBC is not responsible for the content of external sites.