'Swedish Fritzl' on trial over claims he held woman in bunker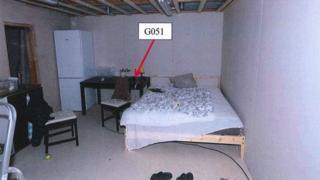 A doctor dubbed the "Swedish Fritzl" has gone on trial accused of drugging and raping a woman and locking her in a purpose-built bunker for almost a week.
The 38-year-old is said to have fed his victim strawberries laced with Rohypnol before abducting her and holding her in a soundproofed cell at his home.
The woman has reportedly demanded 380,000 kronor (£31,000; $44,000) in damages.
The doctor admits sedating and detaining the woman, but denies rape.
His lawyer told the court in Stockholm that her client - described as a lonely and depressed man - had been looking for a partner.
The victim's lawyer, Jens Hogstrom, told Swedish newspaper Expressen that she was traumatised by what happened and deeply distressed by having to face her attacker in court.
The woman told police the doctor had pretended to be American when the pair arranged to meet for a second date in Stockholm last September, according to reports.
Arriving at her home with champagne and gifts, he allegedly drugged her with strawberries dipped in chocolate before raping her and kidnapping her.
He used a wheelchair to transport her and two rubber masks - of a bearded man and an older woman - to hide their identities, driving her about 350 miles (560km) to his home near Kristianstad in southern Sweden, prosecutors say.
He is accused of locking her in a high security, concrete-clad bunker on his farm, and repeatedly raping her over a period of six days.
The case has been likened to that of Austrian Josef Fritzl, who kept his daughter locked up in a cellar for 24 years.
Contract
Swedish media reported on Monday that police found documents showing the doctor was planning to hold her for up to 10 years. He reportedly formulated a "contract" offering rewards for particular sexual activities, and threatening extended detention for escape attempts.
Police are also said to be investigating the possibility that he was planning to abduct other victims.
The man was arrested after the woman's disappearance made the news, and he took her to a police station in Stockholm on 18 September under orders to say she was fine.
His lawyer, Marine Schaub, told the court on Monday her client had never meant to hurt the woman, and that he "desperately wanted a life partner".
The victim could be heard sobbing from inside the courtroom, according to news service The Local.
The trial is expected to last several days.