Rouhani arrives in Paris as Iran drums up business with France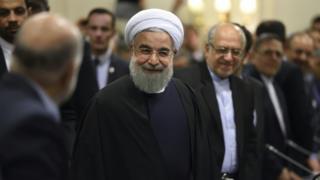 Iranian President Hassan Rouhani has arrived in France for the second leg of his state visit to Europe, after three days in Italy.
Mr Rouhani is expected to secure valuable trade deals following the lifting of international sanctions over Iran's nuclear programme.
Among them is a likely agreement with French aircraft manufacturer Airbus for more than 100 new planes.
Mr Rouhani will also meet French President Francois Hollande.
As he arrived, Mr Rouhani said his trip was an important step in deepening ties between Iran and France.
Mr Rouhani's five-day visit to Italy and France is the first by an Iranian president in nearly two decades, as the Iranian president seeks to rebuild economic ties and secure new trade deals.
Iran is likely to need hundreds of new aircraft in the coming years as it re-establishes commercial air travel restricted by the sanctions, and French car makers will once again be free to supply to the Islamic Republic.
As well as a deal for Airbus planes, contracts are likely to be signed with car manufacturers Peugeot and Renault, Mr Rouhani told reporters on Monday.
Nudes hidden
In Italy, Mr Rouhani met Prime Minister Matteo Renzi and Pope Francis. Monday saw contracts worth around €17bn ($18.4bn; £12bn) signed between Iranian and Italian companies.
At Rome's Capitoline Museum, where Mr Rouhani and Mr Renzi met, nude statues were covered up and wine was removed from official menus out of respect for the Islamic Republic's strict laws governing propriety.
But the move to cover the statues angered Culture Minister Dario Franceschini, who labelled it "incomprehensible". He said neither he nor Mr Renzi had been informed of the decision.
---
The big cover-up - Nicholas Niksadat in Rome
Mr Renzi has blamed an ''excess of zeal'' but it is not without precedent: another nude statue was covered last year while the UAE's Crown Prince was hosted in Florence.
The choice of the Capitoline museum in Rome had been meant to highlight the ancient links between two ''superpowers of beauty and culture''. Now the prime minister has been summoned to explain himself in parliament.
All this came before a Senate debate on granting legal recognition to civil unions including gay couples. Critics are asking why Italy overlooked the persecution of homosexuals in Iran if the Iranians could not get over Italy's wine and statues.
---
Rome's cultural office said the order had come from the PM's office. Italian media suggested the decision had been made by the PM's officials without consulting their bosses.
Many newspapers were aghast at the move. "Covering those nudes... meant covering ourselves," said La Repubblica, while La Stampa chastised "those geniuses of protocol".
Mr Rouhani dismissed the incident as a "minor thing" and "journalistic issue".
Iranian diplomats also reportedly requested that no wine be served at Mr Rouhani's lunch meeting with Mr Hollande, leading French officials to postpone the meeting until after lunch.
During his meeting with Mr Rouhani, Pope Francis urged Iran to work with other Middle Eastern countries against terrorism and arms trafficking, the Vatican said.
Iran has been accused of funding militant groups, such as Hezbollah in Lebanon.
Mr Rouhani asked the pontiff to pray for him, and gave him the gift of a hand-made carpet.