Turkey: Five-storey building collapses in Istanbul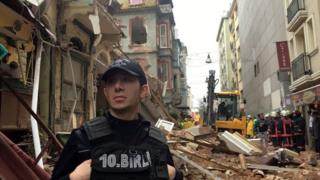 A five-storey building has collapsed in the Turkish city of Istanbul, but it is unclear if there are any casualties.
City police told the BBC that no-one was trapped in the wreckage, but local media say people may be inside.
The building is near Istiklal Avenue, a major pedestrian shopping area in central Istanbul, the Dogan news agency reported.
It said a cafeteria was located on the ground floor. Firefighters are now working at the scene.
A shopkeeper told Hurriyet newspaper: "Our building is right next door to the collapsed one. That building was emptied some time ago. It was empty. Shops at the entrance were still working."