Migrant crisis: EU meeting seeks to heal growing rifts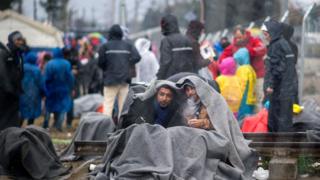 Ministers from EU and Balkan nations are meeting in Brussels to try to heal rifts over migrants that have plunged common policy into chaos.
Austria, Serbia and Macedonia have taken their own steps to limit entry to migrants, angering Greece, which fears the controls will cause a bottleneck.
A surge in migration, and the failure to agree an EU-wide response, have led to warnings about the bloc's survival.
More than 100,000 migrants have entered the EU illegally this year.
European Council president Donald Tusk has warned that the failure to make progress towards resolving the crisis could increase the likelihood of the UK voting to leave the EU this year.
The EU interior ministers meeting in Brussels will hear plans drawn up by Austria and eight Balkan countries that seek to restrict the numbers entering their borders.
An official from the current Dutch presidency of the EU told AFP news agency Thursday's meetings would aim to "avoid surprises - we have to avoid that one country is surprised by the measures taken by another".
EU migration: Crisis in graphics
In separate developments:
Ships from a Nato mission fighting human-trafficking in the Aegean Sea will work with Turkish and Greek coastguards, according to a new agreement, overcoming territorial tensions between the two neighbours
A French judge is to decide whether to implement or postpone an eviction order for up to 1,000 migrants under plans to demolish part of the Calais "Jungle" camp
Germany expects to accommodate 3.6m migrants by 2020, German media reported, quoting internal government estimates
The new measures - from Austria and its Balkan partners - include fingerprinting all entrants and turning back anyone without a passport or holding fake documents.
The countries have also pledged to accept only those they deem to be in need of protection - interpreted by some governments as meaning only Syrians and Iraqis.
Over the weekend, Macedonia barred entry to Afghans at its border with Greece.
Sebastian Kurz, the Austrian foreign minister, told German TV Europe had to "abandon this goal of allowing in unlimited numbers".
But the plans drew sharp criticism from Greece, the first stop on European soil for thousands of migrants arriving by sea.
Greece has threatened to block all decisions at EU migration summits next month if member states do not agree to take in quotas of migrants.
Filippo Grandi, the head of UN refugee agency UNHCR, said: "Everybody has to take a share of this burden."
Germany's parliament has meanwhile backed new measures to speed up the processing of claims from migrants who are less likely to be granted asylum.
The move envisages the creation of reception centres where certain categories of asylum-seekers - those from so-called countries "safe countries of origin" or those who have not helped the authorities with their claims - can have their claims processed within three weeks.
The measures also include a controversial provision to delay family reunions for migrants who are not believed to "personally persecuted".
---
What the European papers say - BBC Monitoring
Several papers from countries in the thick of the EU migrant crisis are worried about their leaders' approach. Influential journalist Alan Posener, in Germany's Die Welt, believes Chancellor Angela Merkel's "short-sighted actions" on the crisis are helping Russia sow division among European states. "The EU is blowing up around Merkel - to Putin's delight," he writes.
Austria's Kronen Zeitung also reports that Mrs Merkel is under pressure to consider Austrian and Balkan proposals to restrict the flow of refugees. "Will Berlin join the 'Viennese way'?" a headline asks. But another Austrian paper, the Kurier, worries that the proposals have put Vienna "on a collision course with the EU".
Meanwhile, Greek daily I Kathemerini laments that "the nightmare scenario of tens of thousands of refugees and migrants trapped has come to pass", adding that the government was ill-prepared for this situation, and cannot easily negotiate its way out. "Regardless of Greek shortcomings," the paper says, "Europeans have a responsibility not to feed the snake of anti-European sentiment in Greece."
---
In September, EU ministers agreed plans to relocate 120,000 migrants from Italy, Greece and Hungary to other EU countries. But the majority vote decision was opposed by Romania, the Czech Republic, Slovakia and Hungary.
More than 100,000 migrants have arrived in Greece and Italy so far this year, the International Organization for Migration (IOM) said. More than 400 migrants died attempting to make the journey during the same period, the IOM said.
A note on terminology: The BBC uses the term migrant to refer to all people on the move who have yet to complete the legal process of claiming asylum. This group includes people fleeing war-torn countries such as Syria, who are likely to be granted refugee status, as well as people who are seeking jobs and better lives, who governments are likely to rule are economic migrants.