Profile: German right-wing AfD leader Frauke Petry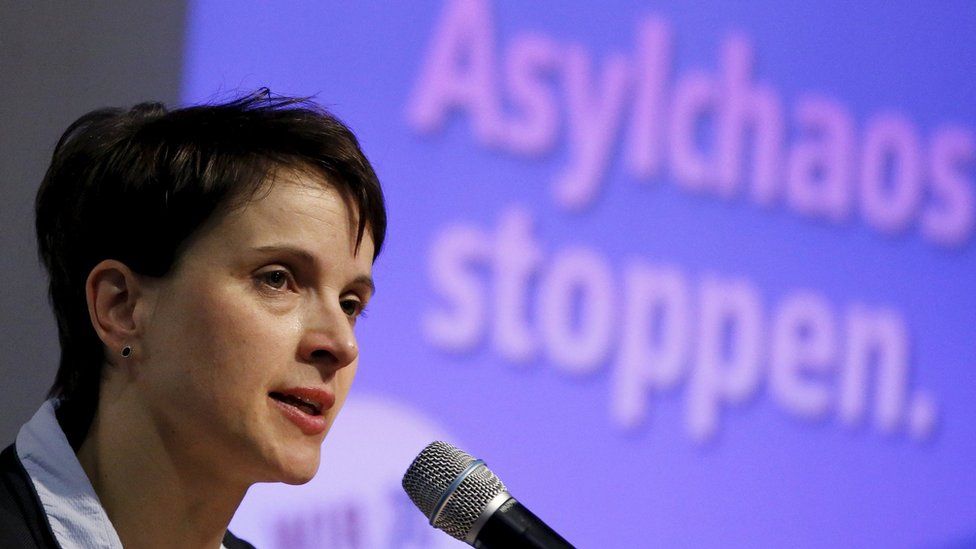 She is an East German-born female scientist heading a political party - but there the parallels with Angela Merkel stop.
Ms Petry took over as leader of the Alternative for Germany (AfD) political grouping in July 2015 after an internal power struggle that saw the party's co-founder and first leader, Bernd Lucke, ousted.
The AfD was formed in 2013 by a group of economists concerned at German-backed bailouts for poorer eurozone members.
Under Ms Petry the party has moved to the right, and its focus has changed from eurozone issues to migration, after more than a million people claimed asylum in Germany in 2015.
In local council elections in Hessen on 6 March the party came third, winning more than 13% of the vote - putting it in a strong position ahead of regional elections in three states on 13 March.
Ms Petry is a member of the state parliament in Saxony - the first German state to elect AfD legislators.
The 40-year-old was born in Dresden and moved to west Germany as a teenager after reunification.
She studied chemistry at the University of Reading, gained a doctorate at Goettingen University, and later founded a company in Leipzig which manufactures environmentally-friendly polyurethanes.
After the party wrangling which saw her take over the leadership of the AfD, Ms Petry announced she had separated from her husband, a Lutheran minister with whom she has four children. She is now in a relationship with Marcus Pretzell, one of the AfD's two MEPs.
Founded in 2013 by Bernd Lucke, Alexander Gauland and Konrad Adam to oppose German-backed bailouts for poorer southern European countries
Mr Lucke, seen as a moderate, wanted Germany out of the euro but his colleagues were unhappy that he wanted to focus exclusively on euro-related issues
He quit the party in early July 2015, arguing it was becoming increasingly xenophobic
Right-winger Frauke Petry replaced him as party leader
It became the first anti-euro party to win seats in a German regional parliament, receiving almost 10% of the vote in the eastern German state of Saxony in 2014, and went on to win seats in four other states' parliaments in 2014 and 2015
The party had seven MEPs elected in the 2014 European elections (including Mr Lucke), but only two remain party members
AfD was part of the European Conservatives and Reformists Group, like the UK's ruling Conservatives, but its two MEPs look set to be expelled from the group over comments on shooting refugees