France minibus crash in Allier kills 12 from Portugal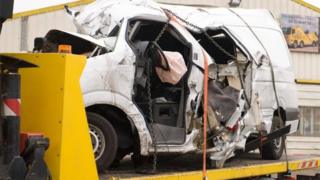 Twelve people have been killed in a head-on collision between a lorry and a minibus in central France.
The victims were all Portuguese passengers on the minibus, which was travelling from Switzerland to Portugal, officials say.
The driver of the minibus and the two Italian drivers of the lorry survived, they add.
The collision took place just before midnight near the village of Montbeugny, in the Allier department.
Reports say the minibus swerved into the path of oncoming traffic, but the reason was not clear.
One of those killed was a seven-year-old girl.
Emergency services closed the road after the accident and a nearby village hall was used as a temporary mortuary.
The crash happened on a stretch of road said by locals to be notorious for accidents.