Panama Papers: Russians unfazed by Putin circle deals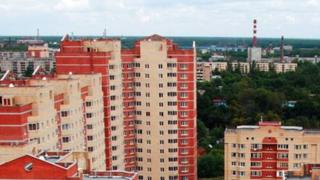 Drive two hours east of Moscow, and you'll reach a town which, in Tsarist times, was called Zatishe - "peace and quiet".
Everything here was peaceful and quiet until they built a giant metallurgical plant, a munitions factory and heavy machine-building enterprise. Under communism the town was renamed Elektrostal ('ElectroSteel'). To reflect the absence of peace and quiet.
Communism collapsed a quarter of a century ago. But today, like many places in Russia, Elektrostal still has a Lenin Square and a Soviet street. It has something else, too, that was very common in the USSR: a deep suspicion of the West.
At a newspaper kiosk I ask sales assistant Nadezhda what she thinks of the Panama Papers, and claims of a money laundering ring close to the Kremlin.
"I have a very negative attitude… towards you!" Nadezhda replies.
"That's a pity," I respond, "I don't have a negative attitude towards you."
"It's nothing personal," explains Nadezhda. "You seem quite a decent person. It's your country I don't like and its scheming. All these 'investigations' are a waste of time and money. We know what you're up to."
---
Panama Papers: The Russian connection
Documents leaked from Panama law firm Mossack Fonseca reveal suspected money laundering ring involving close associates of President Vladimir Putin
Cellist Sergei Roldugin, a close friend of Mr Putin, named in connection with suspicious offshore transactions
Billion-dollar offshore operation was run by Bank Rossiya, which is subject to US and EU sanctions, documents show
Deals went through an offshore entity called Sandalwood Continental
Kremlin dismissed revelations as an anti-Putin smear campaign aimed at influencing upcoming Russian elections
President Vladimir Putin denied "any element of corruption" and alleged that US officials and official bodies were behind the revelations
Putin friend in 'money laundering ring'
BBC reporters on the Panama Papers
---
Nadezhda calls over her friend, the ice cream seller.
"Marina, come here, they're trying to rub Putin's face in the dirt."
"We're for Putin, we're for Russia," the ice cream lady declares. "The West just wants to topple him and put one of its own people in his place. Someone like Ukraine's President [Petro] Poroshenko."
"But what about the claims about offshore accounts, tax evasion and money laundering close to the Kremlin?" I ask, "Doesn't that surprise you?"
"People high up have always had accounts like these and they always will," Marina says, "And Putin can't keep an eye on everyone."
At the Elektrostal hair salon, manager Galina believes Russia is a cut above the West.
"It's bad that we have enemies, like America, who always criticise Russia," Galina tells me. "The Americans just want to conquer the world. I'm certain that Putin has no connection to these alleged accounts."
Later in the park I meet a mathematician called Boris. I ask what he thinks about allegations people close to the president have been channelling huge sums through offshore companies.
"Well, it doesn't affect my life in any way," Boris replies, "and if it doesn't affect me or the people around me, then as far as I'm concerned it doesn't exist. Anyway, Putin is the greatest leader of modern times."
This is precisely the picture that state television in Russia paints: heroic Putin versus evil West. The message is so powerful it often overrides the scepticism some people do feel about what TV is telling them.
"We can't rely on the mass media these days," says Zhanna, a teacher at the Elektrostal Foreign Language School. "Sometimes we are in a difficult situation; we don't know who to believe. All mass media tell lies, everywhere."
But that does not affect Zhanna's view of Vladimir Putin.
"I think he is not worth criticising. He is a worthy president and he behaves correctly."
I ask Zhanna what she makes of past rumours that Vladimir Putin has a multi-billion dollar fortune.
"No, these accusations are not right. Not at all. Accusations are necessary for our enemies. That's why they try to exaggerate things or invent things."
Most of the people I speak to in Elektrostal are critical of Western leaders and governments.
But with the exception, perhaps, of Nadezhda the newspaper vendor, I am made to feel very welcome. In the park, three friends, Nikita, Ivan and Andrei, get off their bikes and offer me what looks like cognac. When I politely decline, explaining I am driving, they get me to "clink" the bottle with my fist as a sign of friendship.
The friends disagree about the Panama Papers. Ivan dismisses the documents as "total rubbish". But Nikita declares himself a rare voice "against Putin". He says he believes the findings of the journalists' investigation are true.
Before I leave Elektrostal I get chatting to a pensioner called Ella. She's sitting on the pavement selling socks and stockings, to supplement her pension. You might think that if anyone would be angry at the suggestion huge sums of money were being squirrelled abroad, it would be Ella. But she doesn't seem to care.
"I don't know about any of these offshore accounts," Ella tells me, "but I do know that a head of state has the right to be well off. He carries such a weight of responsibility."
To many Russians, power and wealth go hand in hand. And many here remain suspicious of the West. As long as Russians are focused on enemies abroad, their leaders at home will feel quite safe.
---
Panama Papers - tax havens of the rich and powerful exposed
Eleven million documents held by the Panama-based law firm Mossack Fonseca have been passed to German newspaper Sueddeutsche Zeitung, which then shared them with the International Consortium of Investigative Journalists. BBC Panorama and UK newspaper the Guardian are among 107 media organisations in 76 countries which have been analysing the documents. The BBC does not know the identity of the source
They show how the company has helped clients launder money, dodge sanctions and evade tax
Mossack Fonseca says it has operated beyond reproach for 40 years and never been accused or charged with criminal wrong-doing
Tricks of the trade: How assets are hidden and taxes evaded
Panama Papers: Full coverage; follow reaction on Twitter using #PanamaPapers; in the BBC News app, follow the tag "Panama Papers"
Watch Panorama on the BBC iPlayer (UK viewers only)