Europe and right-wing nationalism: A country-by-country guide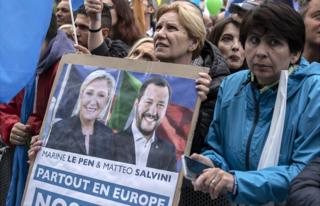 Nationalism has always been a feature across Europe's political spectrum but there has been a recent boom in voter support for right-wing and populist parties.
It is visible from Germany, where the AfD has become the biggest opposition party in the Bundestag, to Spain, where Vox has become the third largest force in parliament.
In part, voters are frustrated with the political establishment, but they also have concerns about globalisation, immigration, a dilution of national identity and the European Union.
In the European Parliament, nine far-right parties have formed a new bloc, called Identity and Democracy (ID).
So where in Europe's political landscape do right-wing nationalists hold sway?
---
Italy
Italy's Matteo Salvini - leader of the League - is a key figure in Europe's nationalist scene, despite the collapse of his ruling coalition with the anti-establishment Five Star Movement in August.
A surprise deal between Five Star and the centre-left Democratic Party (PD) ended Mr Salvini's tenure as interior minister.
The League's popularity coincided with the aftermath of the financial crisis and a big influx of sub-Saharan migrants from North Africa in 2016. As interior minister, Mr Salvini spearheaded an anti-immigration policy that barred humanitarian rescue ships from Italian ports.
His party has long had a Eurosceptic reputation. It is leading the Italian opinion polls and has 28 MEPs in the new EU Parliament's 73-strong ID bloc.
---
Germany
In 2017 the far-right Alternative for Germany (AfD) entered the federal parliament for the first time with 12.6% of the vote, becoming Germany's biggest opposition party.
From its beginnings as an anti-euro party, it has pushed for strict anti-immigration policies, embraced hostility towards Islam and broken decades-old anti-Nazi taboos. It enjoyed a surge in popularity as Germany allowed in over a million undocumented migrants.
Despite attempts by Chancellor Angela Merkel to toughen her stance on immigration, the party has added to its electoral success and now has representatives in every state parliament.
In October 2019 the AfD came ahead of Mrs Merkel's Christian Democrats (CDU) in the eastern state of Thuringia - a shock to the political establishment.
The AfD is strongest in ex-communist eastern Germany. Its supporters chant "Wir sind das Volk!" (We are the People) - an emotive slogan from the anti-communist protests of 1989.
The AfD is also Eurosceptic and Nigel Farage, leader of the UK's Brexit Party, took part in its 2017 election campaign.
The Brexit Party was the clear winner in the UK's European elections in May, despite its lack of seats in the UK Parliament. The party insists that the UK must leave the EU unconditionally: it argues that this was mandated by the Leave vote in the UK's 2016 referendum.
---
Spain
One of the big political stories in Spain has been the sudden rise of the far-right Vox party.
Spain held its fourth general election in four years on 10 November and Vox surged into third place, doubling its seats to 52. It only entered parliament for the first time in April.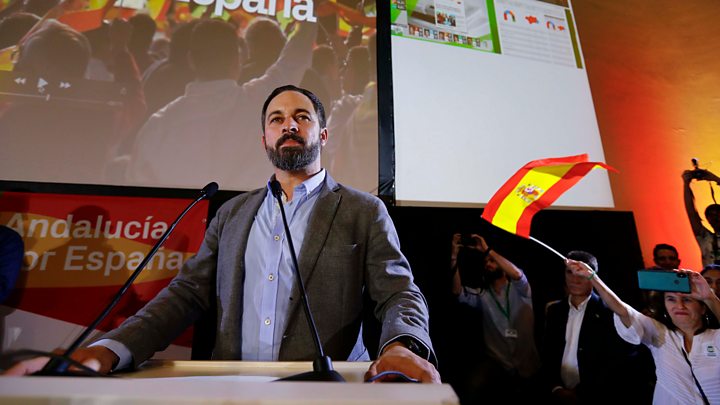 Vox styles itself as defending the unity of the Spanish state, with a promise to deport illegal immigrants and repeal laws against gender violence.
It has made major gains by calling for a suspension of autonomy for the north-eastern Catalonia region, after separatists failed in their push for independence in October 2017.
Many believed that Spaniards would never endorse a far-right party due to its history under dictator Francisco Franco, who died in 1975. Just a single seat had been won by a far-right candidate since then - in 1979.
---
Austria
The Freedom Party (FPÖ) became the only far-right party in power in Western Europe when it joined a coalition as junior partner with conservative Chancellor Sebastian Kurz in 2017. His People's Party, along with the centre-left Social Democrats, have long dominated Austrian politics.
As in Germany, the migrant crisis that unfolded in 2015 was also seen as key to the FPÖ's success, and an issue they long campaigned on.
During its time in power the Freedom Party became caught up in a series of race rows. Then, party leader Heinz-Christian Strache and parliament group head Johann Gudenus were caught up in a scandal over a video "sting" filmed in Ibiza in 2017.
Mr Strache resigned and the fallout led to the far-right party quitting the government and support for the FPÖ fell sharply to 16% in September elections.
---
France
Despite the efforts of leader Marine Le Pen to make the far right palatable to France's mainstream, she was comprehensively defeated by Emmanuel Macron for the presidency in May 2017.
Her National Front (FN) failed to break through in parliamentary elections the following month, and the party was then renamed the National Rally (Rassemblement National).
Ms Le Pen's party is opposed to the euro and blames the EU for mass immigration, and she has found a common voice with other nationalist and far-right parties in Europe.
There is evidence that the grassroots "gilets jaunes" (yellow-vest) protest movement has attracted some activists from the far right.
The anti-establishment protests over the cost of living have posed probably the biggest challenge to the Macron presidency.
Some gilets jaunes protesters include anti-Semitic abuse in their angry campaign.
---
Sweden
The anti-immigration Sweden Democrats (SD) made significant gains in the 2018 general election, winning about 18% of the vote.
The party has its roots in neo-Nazism, but it rebranded itself in recent years and first entered parliament in 2010. It opposes multiculturalism and wants strict immigration controls.
As with many of the countries featured here, though, the picture is complex. Sweden has welcomed more asylum seekers per capita than any other European country and has one of the most positive attitudes towards migrants.
---
Finland
The far-right Finns Party were narrowly beaten into second place in the April 2019 general election, coming within 0.2% of the left-wing Social Democratic Party (SDP).
Its success was built on two policies: opposition to immigration and a rejection of ambitious policies aimed at combating climate change.
It was an extraordinary recovery for a party that had also done well in the previous vote in 2015 but had since faded in popularity because of party splits.
---
Estonia
Estonia's far-right Conservative People's Party of Estonia (EKRE) won its first seats in parliament in the 2015 election.
Four years later, EKRE has more than doubled its share of the vote to nearly 18%, making it the third-largest party. It used that power to negotiate a place in government, as it joined fellow runners-up the Centre and Pro Patria parties to stop liberal leader Kaja Kallas from becoming Estonia's first woman prime minister.
EKRE campaigned on an anti-immigration platform, and is also critical of same-sex marriage. Its leader, Martin Helme, once said that only white people should be allowed to move to Estonia.
---
Poland
The far-right Confederation party got 6.8% of the vote in Poland's 2019 general election.
But the main story of the election was the convincing win for conservative Law and Justice (PiS), returning to power with 43.6% of the vote.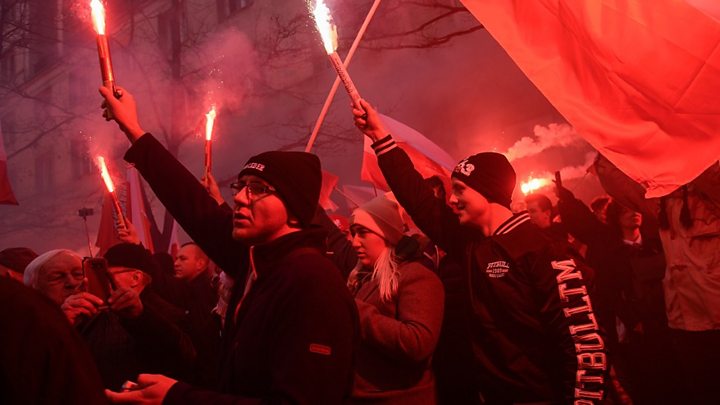 PiS is led by a veteran anti-communist campaigner, Jaroslaw Kaczynski, whose bedrock support is in rural Poland, with its deep-rooted Catholic traditions. The party is strong on social welfare, as well as nationalism, making it rather different from many other right-wing parties in Europe.
The PiS government's controversial overhaul of Poland's judiciary has put it in dispute with the EU Commission.
---
Hungary
In 2018, Hungarian Prime Minister Viktor Orban secured a third term in office with a landslide victory in an election dominated by immigration.
The victory, he said, gave Hungarians "the opportunity to defend themselves and to defend Hungary".
Mr Orban has long presented himself as the defender of Hungary and Europe against Muslim migrants, once warning of the threat of "a Europe with a mixed population and no sense of identity".
In March 2019 Europe's mainstream centre-right grouping, the EPP, suspended Fidesz because of its anti-EU stance.
Hungary has two nationalist parties - with Jobbik attempting to escape its far-right past and appeal to centrist voters - and gaining 19% of the vote in 2018.
---
Slovenia
Although it fell a long way short of a majority, the anti-immigrant Slovenian Democratic Party (SDS) was the largest party in this year's general election.
The party is led by former Prime Minister Janez Jansa, a supporter of Hungary's Viktor Orban. He has said he wants Slovenia to "become a country that will put the wellbeing and security of Slovenians first".
---
Greece
An anti-immigration, nationalist party called Greek Solution got 3.7% in Greece's 2019 national election, giving it 10 seats in the 300-seat parliament.
The neo-Nazi Golden Dawn party no longer has any seats in the parliament.
Voter frustration with Greece's continuing economic malaise and the migrant crisis has not translated into a big surge for the far right.