New Spain elections loom as coalition talks fail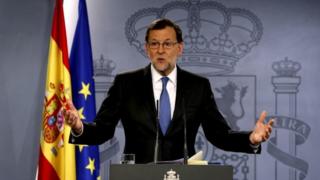 Spain is set for fresh elections after King Felipe VI announced the failure of the latest round of coalition talks.
No party secured a majority in last year's poll, where political newcomers brought to an end Spain's long two-party system.
Mariano Rajoy, leader of the Popular Party (PP), has been caretaker prime minister ever since.
After further talks, King Felipe said no candidate to replace Mr Rajoy was possible, triggering a new vote.
"His Majesty... has established that there is no candidate with the necessary support," a statement from the royal palace said.
The new election is likely to take place on 26 June.
Last year's election saw the rise of the anti-austerity Podemos movement and Ciudadanos, ending the dominance of the PP and the Socialists.
Disaffection, particularly among young voters, over high unemployment, corruption scandals and austerity measures played a big part in the new parties' emergence.
But with no party able to form a minority government, or form a coalition, Spanish politics has been paralysed.
Attempts at a grand coalition involving the PP and the Socialists failed, as did one involving the Socialists and Ciudadanos.
Spain has never had a governing coalition at national level, and analysts questioned whether more elections would end the deadlock.
---
Who's who in Spanish politics?
Popular Party (PP): Centre-right party of Acting Prime Minister Mariano Rajoy, in power since December 2011 but lost its majority in 2015
Spanish Socialist Workers' Party (PSOE): Centre-left party, led by Pedro Sanchez, in power alternately with PP since 1982
Podemos: Left-wing party founded in 2014 by university professor Pablo Iglesias
Ciudadanos (Citizens): Centrist party formed in Catalonia in 2006 opposing Catalan independence before going national in 2013, led by Albert Rivera
---