Dublin: Man arrested in connection with boxing weigh-in shooting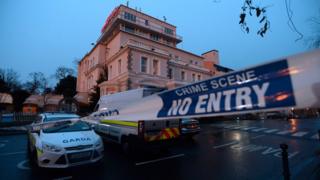 Police in the Republic of Ireland have arrested a man in connection with a shooting that killed a 33-year-old man at a boxing weigh-in at a Dublin hotel.
The attack at the Regency Hotel killed David Byrne from Crumlin. Two other men were injured during the shooting on 5 February.
The armed gang were disguised as police officers and armed with AK47 rifles.
The man in his 20s was arrested in north Dublin on Friday.
Gardaí (Irish police) have said they believed at least six men were involved in the attack.
The shooting took place during the weigh-in for a World Boxing Organisation (WBO) title fight in Dublin.
The attack is considered to be part of a violent feud between two rival gangs in Dublin that has so far claimed the lives of at least five men.