Hollande 'won't give in' amid labour reforms protests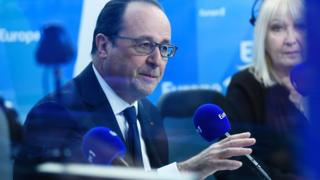 French President Francois Hollande has vowed not to back down in the dispute with trade unions over new labour laws.
In an interview, he threatened tougher action against violent protests.
Fresh demonstrations against the reforms are spreading across France, with lorry drivers barricading roads in Nantes, Marseille and Le Mans.
The government says the labour market reforms will create jobs; unions say they will destroy job security and erode workers' rights.
Last week, the government survived a vote of no confidence put forward by the opposition over the reforms, after forcing the reforms through without the backing of parliament. The draft law will now be debated in the Senate.
But the next challenge facing Mr Hollande's government is a week of rolling strikes and other action called by the radical CGT union.
At the forefront of Tuesday's actions were lorry drivers, who say the reforms will allow employers to halve their overtime pay.
Marches are scheduled in cities around France, and rail workers are also due to begin strikes on Tuesday evening that could disrupt transport through until Friday.
French labour reform bill - main points
The 35-hour week remains in place, but as an average. Firms can negotiate with local trade unions on more or fewer hours from week to week, up to a maximum of 46 hours
Firms are given greater freedom to reduce pay
The law eases conditions for laying off workers, strongly regulated in France. It is hoped companies will take on more people if they know they can shed jobs in case of a downturn
Employers given more leeway to negotiate holidays and special leave, such as maternity or for getting married. These are currently also heavily regulated
Busting the myth of France's 35-hour working week
Speaking on the Europe 1 radio station as the protests began, President Hollande insisted that he would "not give in", saying that it would be impossible, given the state of the country he inherited four years ago.
He says the reforms are needed to address chronically high levels of unemployment - which is at 10%, reaching 25% among the young - though unions and student groups dispute that.
Mr Hollande warned those he said were using the regular anti-reform demonstrations to cause trouble, claiming 1,000 people had already been arrested and hundreds of police officers injured.
"Protesting is a right," he said, "but causing trouble is a crime."