Court allows Amanda Knox to sue Italy for trial 'abuses'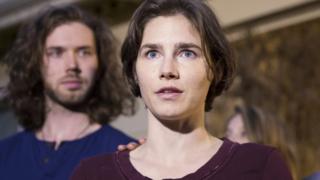 The European Court of Human Rights has granted Amanda Knox the right to make a legal complaint against Italy for violating her rights after the 2007 murder of UK student Meredith Kircher.
She argues she was subjected to an unfair trial and maltreated under questioning.
Ms Knox was convicted, acquitted and retried on charges of the sexual assault and murder of her flatmate.
She and her former boyfriend were definitively acquitted in March 2015.
In September, Italy's highest appeals court criticised "glaring errors" in the investigation.
Ms Kercher, 21, was stabbed to death in the Perugia flat she shared with Ms Knox in November 2007.
The Strasbourg court's decision (in French) has been conveyed to Italy to allow it to begin preparing its defence.
Among the claims made by Ms Knox are that in the period preceding her first trial:
She was subjected to hours of questioning without access to a translator, despite her limited abilities in Italian
She was questioned without being granted a lawyer
She was subjected to inhumane treatment including "degrading slaps to the head"
Ms Kercher's body was found in a pool of blood at her apartment in the university city. Her throat had been cut.
---
Meredith Kercher murder: Timeline
1 November 2007: Meredith Kercher is killed at her apartment in Perugia. Police find her a day later.
6 November 2007: Ms Kercher's American housemate Amanda Knox is arrested, along with Italian Raffaele Sollecito and Congolese national Patrick Diya Lumumba.
20 November 2007: Rudy Guede detained in Germany and extradited to Italy. Mr Lumumba released without charge
28 October 2008: Guede sentenced to 16 years. A judge rules Mr Sollecito and Ms Knox will face a murder trial
4 December 2009: Ms Knox and Mr Sollecito found guilty of murder and sexual violence, and jailed for 26 and 25 years
3 October 2011: Ms Knox and Mr Sollecito acquitted
31 January 2014: Convictions re-instated
28 March 2015: Court of Cassation acquits Ms Knox and Mr Sollecito in final verdict
---
"The court's acceptance of the appeal is great news. It's difficult to get cases accepted," said Luciano Ghirga, one of Ms Knox's lawyers.
"I can't say it gives me any satisfaction, however, as so much suffering has already been caused."
Ms Knox's former boyfriend, Italian Raffaele Sollecito, was also cleared of all wrongdoing when the case reached Italy's highest court of appeal last year.
He welcomed the court's decision, saying Ms Knox had been questioned for 15 hours without a lawyer or an official interpreter, "It's time people started opening their eyes on this affair," he told Italy's Ansa news agency.
Another man, Rudy Hermann Guede, born in Ivory Coast, was convicted of murder in a separate trial and is serving a 16-year sentence.
The court's ruling against Guede stated that he did not act alone, but the acquittals of Ms Knox and Mr Sollecito mean that no-one now stands convicted of acting with Guede to kill Ms Kercher.