EgyptAir crash: The internet fakes and rumours
By Rozina Sini
BBC News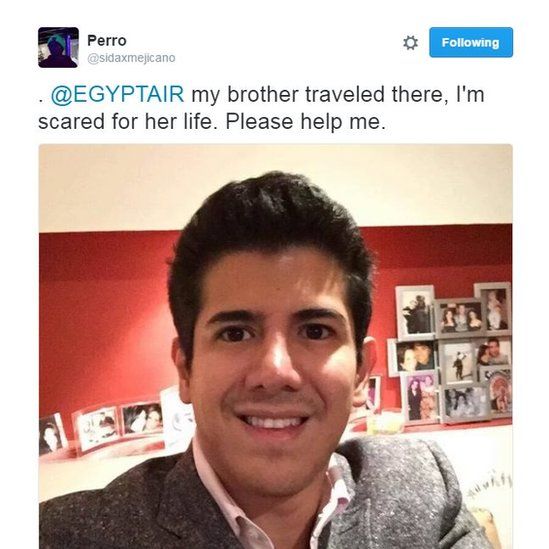 When news of the missing EgyptAir flight emerged on Thursday morning people began sharing details of the unfolding story - but not everything was genuine.
Flight MS804 was en route from Paris to Cairo with 66 passengers and crew when it vanished.
This prompted a response on social media from someone claiming to have a relative on board.
A Twitter user called "Perro" posted a photo purporting to be of his brother Alfonso, prompting several retweets from fellow users.
"My brother traveled (sic) there... please help me," he wrote.
But a Google reverse image search showed that the photograph had been used before online, and had been linked to a series of different Twitter handles.
One user distorted the same picture and tweeted: "My mom was on the plane. I'm afraid. Tell me what I have to do please."
Other Twitter users also claimed to have missing relatives using the hashtags #EgyptAir and #MS804.
The hoax posts came from Twitter accounts in Mexico and there is speculation they may have been linked to the same person.
Montel Williams tweeted: "It takes a sick and twisted person to fake having family aboard a crashed airplane. #MS804 @Support plz ban him."
It is unclear exactly where the photo is from and who the man pictured is, but it has been circulating online since December 2015, sometimes in reference to a dispute at a shopping centre in Mexico.
As speculation grew over what happened to the EgyptAir flight more incorrect information was being shared.
A video on the website viral-videos.today claimed to show a ball of fire supposedly spotted by witnesses around the time the jet disappeared.
The footage was tweeted by @githii with the post: "SAD.... A woman recorded this ball of fire in the sky, believed to be #EgyptAir #MS804".
It was also picked up and included in a news report by 7 News Sydney, which tweeted: "Residents of Greek Island claim they saw a ball of fire in the sky around the time #MS804 disappeared.@ChrisReason7"
But the fireball was in fact footage recorded last year in California.
The tweet has since been removed from 7 News Sydney's account.