Merkel 'concern' over Turkey's 'anti-Kurdish' law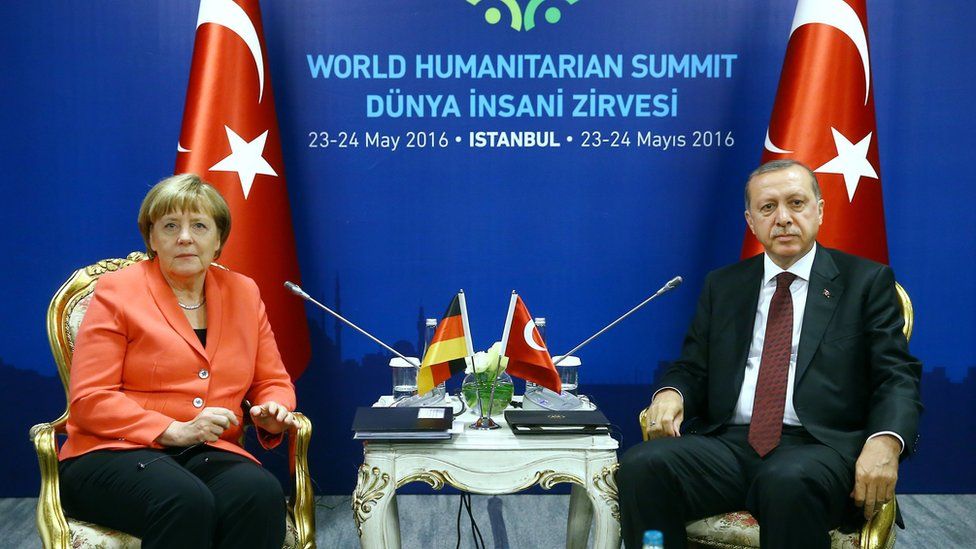 Angela Merkel, the German chancellor, has expressed "deep concern" to Turkish president Recep Tayyip Erdogan over a law lifting immunity for MPs.
Critics say Mr Erdogan intends to use the law to evict pro-Kurdish politicians from parliament.
She said she had also made it clear to Mr Erdogan that Turkey must reform its anti-terror legislation - bringing it closer to European Union standards.
The two reportedly agreed on the need to continue cooperation on migration.
The controversial immunity law is seen as targeting the pro-Kurdish Peoples' Democratic Party (HDP), which Mr Erdogan accuses of being the political arm of the outlawed Kurdistan Workers Party (PKK).
Under Mr Erdogan, Turkey has led an offensive against the PKK, which along with major Western powers it regards as a terror group.
"Of course, the lifting of the immunity of one quarter of the deputies is a source of deep concern," Mrs Merkel said.
"I expressed this to the Turkish president and we discussed these questions very openly."
The two leaders met on the sidelines of the World Humanitarian Summit, which is being hosted by Turkey and opened today in Istanbul.
The increasingly authoritarian Mr Erdogan has called for pro-Kurdish MPs to face terrorism charges, and a successful vote for the bill last week is a first step towards that being possible.
Mrs Merkel also said that Turkey needed to fulfil all of the conditions set by Brussels before its citizens can get visa freedom in the EU.
The two leaders also agreed on the need to continue cooperation against illegal migration, Mr Erdogan's office said.
The EU has promised visa-free travel for Turkish people in exchange for reforms to bring Turkey's anti-terror laws more in line with those of EU countries.
Mrs Merkel said she "made it clear" to Mr Erdogan that no deal could be signed "if the terrorism legislation is not changed in the coming weeks".