Dublin: Men arrested over fatal gun attacks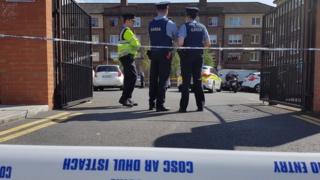 Irish police investigating a number of fatal shootings in Dublin have arrested three men.
Two of the men have been arrested in connection with the murder of Gareth Hutch, who was shot dead in the north inner city on Tuesday.
Another man has been arrested over the death of County Tyrone man Michael Barr on 25 April in the Sunset House Pub.
Both murders are believed to be connected to an ongoing feud between two criminal gangs in the city.
Another man was also arrested on Tuesday in connection with the murder of Mr Hutch.
The men can be detained for up to seven days under anti-gang legislation.
Mr Hutch was the nephew of Gerard Hutch, the man known as 'The Monk'.
Six people have died since February as a result of a violent dispute between the Hutch and Kinahan gangs.
Last week, Patrick Hutch became the first man to be charged with one of the murders.
He is accused of killing David Byrne in a shooting at a boxing weigh-in event at the Regency Hotel in Dublin in February.
The murder of Mr Hutch's brother Gary in Spain last year is believed to have been the first death in the feud.