'Taoiseach' helps 11-year-old Texas boy to national spelling bee win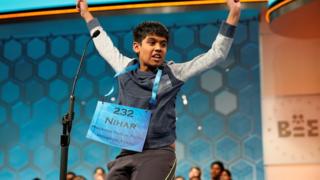 An 11-year-old boy in the United States has wowed audiences after successfully spelling 'taoiseach' on his way to becoming joint winner of a national spelling bee competition.
Nihar Janga, from Austin, Texas, was named co-champion with Jairam Hathwar, 13.
The pair battled for 25 rounds in the final of the national competition, which was broadcast live on TV.
Each received a $40,000 (£27,343) prize.
One of the biggest cheers of the night came when Nihar successfully spelled 'taoiseach'.
"Is that an Irish word for prime minister?" he asked, before rattling off the correct letters.
Nailed
Earlier, he had impressed with his grasp of words.
When given 'biniou' to spell, he asked, 'Is that a Breton bagpipe?' before successfully answering.
In the final round, Jairam spelled 'feldenkrais', a method of education, leaving Nihar with 'gesellschaft', a type of social relationship.
The 11-year-old nailed it to secure a tie and become the youngest champion since 2002.
Speaking afterwards, Nihar thanked his mother and said: "I can't say anything. I'm just in fifth grade."