Bosnian mural honours rock star David Bowie in Sarajevo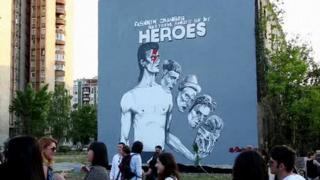 A huge mural honouring the late rock star David Bowie now adorns a building in the Bosnian capital Sarajevo.
Two Bosnian artists created the work, moved by Bowie's death in January at the age of 69. It is 13m (43ft) high and 10.5m (34ft) wide.
The project's mastermind was a local musician, Vedad Trbonja, who called the British singer his "spiritual father".
In 1994 Bowie bought an anti-war painting by artist Peter Howson showing a Bosnian Muslim woman being raped.
The new mural in Sarajevo is on a ruined building near the street known as Sniper Alley during the 1993-1995 war. Sarajevo endured a bloody siege by Bosnian Serb forces in which civilians became snipers' targets.
The mural pays tribute to Bowie's hit songs Heroes and Fashion, bearing the slogan: "Fashion changes, but you'll always be my heroes".
It is the work of Enis Cisic, a Marvel comics illustrator, and Zoran Herceg. A crowd of several hundred attended the unveiling on Saturday.