Gareth Hutch murder: Woman appears in Dublin court charged in connection gun killing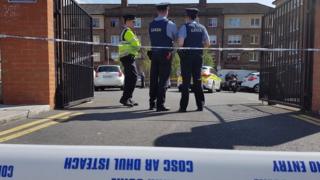 A woman has been remanded in custody accused of withholding information from Irish police investigating the murder of a man in a gun attack.
Gareth Hutch, 35, was shot dead outside flats on North Cumberland Street in Dublin, where he lived, on 24 May.
His murder is believed to be connected to a feud between two criminal gangs.
Mary McDonnell, 44, of Avondale House on North Cumberland Street, was charged with failing to disclose information that could assist police.
She was remanded in custody to appear in court again on 7 June.
Mr Hutch is believed to be the seventh victim of the gang feud.
He was the nephew of Gerard Hutch, a notorious Dublin criminal known as The Monk.
Six people have died in the greater Dublin area since February as a result of a violent dispute between the Hutch and Kinahan gangs.
Earlier this month Patrick Hutch became the first man to be charged with one of the murders.
He is accused of killing David Byrne in a shooting at a boxing weigh-in event at the Regency Hotel in Dublin in February.
The murder of Gerard Hutch's brother, Gary, in Spain last year is believed to have been the first death in the feud.