France industrial unrest: Air threat lifts as rail strikes continue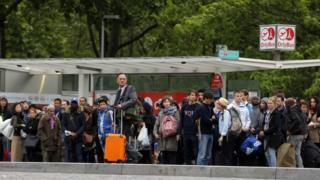 Threats of French air traffic disruption this weekend have been lifted, ministers say, although a rail strike is still halving services.
Four of five unions have called off air traffic control action, with Transport Minister Alain Vidalies assuring there would be no disruption.
Fears of the strike spreading to the Paris metro have not materialised.
Trade unions are protesting against work time changes but the strike comes amid general labour unrest.
The main focus is a labour reform bill that gives companies more leeway to hire and fire workers, reduce pay or extend working hours.
The unrest and travel disruption is of particular concern given that France is hosting the Euro 2016 football championship, which begins later this month. Some 2.5 million people, 1.5 million of them foreigners, are expected to attend dozens of matches nationwide.
Mr Vidalies said on Thursday that four of the five unions who had given notice of an air traffic control strike from 3 to 5 June had called it off.
He also said that traffic was normal on the Paris metro, as well as on buses and trams in the capital.
The fifth union, the militant CGT, still has a hold over the state-run SNCF rail services, where only about a third of inter-city links and 60% of high-speed TGVs are running.
The strike action began on Tuesday evening.
The CGT also continues to disrupt oil refineries, docks and nuclear power plants.
There was also some airport disruption on Thursday, particularly at Orly and Lille, with Air France cancelling 10% of flights.
French labour reform bill - main points
The 35-hour week remains in place, but as an average. Firms can negotiate with local trade unions on more or fewer hours from week to week, up to a maximum of 46 hours.
Firms are given greater freedom to reduce pay.
The law eases conditions for laying off workers, which is strongly regulated in France. It is hoped companies will take on more people if they know they can shed jobs in case of a downturn.
Employers to get more leeway to negotiate holidays and special leave, such as maternity or for getting married. These are currently also heavily regulated.
---
Labour Minister Myriam el-Khomri urged the CGT "to show some form of economic patriotism. Just when the economy is picking up, we shouldn't weaken it".
But CGT head Philippe Martinez again accused the government of refusing to talk.
New protests against the labour law were planned on Thursday in Nantes, Rennes, Toulouse, Marseille and Paris.
However, one opinion poll in Le Figaro suggested public support for the strike may now be waning, with 60% saying the CGT was abusing its position.
The labour reform bill comes before the Senate this month, having passed through the lower house without a vote.
The next national day of action by trade unionists is due on 14 June.
France's Socialist President Francois Hollande insists the bill will not be withdrawn despite months of unrest which erupted into street clashes between protesters and police at marches last Thursday.
---
Have you been affected by the strikes? Do you have plans to travel to France in the coming days?
Email haveyoursay@bbc.co.uk
Please include a contact number if you are willing to speak to a BBC journalist. You can also contact us in the following ways:
Contact us on WhatsApp number +44 (0)7525 900971
Text us on 61124 or +44 7624 800 100 if you are outside the UK