French Cardinal Barbarin questioned in Lyon priest abuse case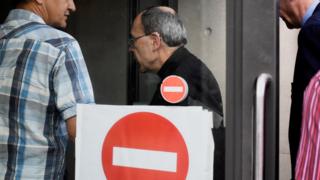 The Archbishop of Lyon, Cardinal Philippe Barbarin, is being questioned by police over allegations that he failed to act against a priest in his diocese accused of child sexual abuse.
The French Catholic Church has been hit by claims of covering up abuse, though the cardinal has repeatedly denied the allegations.
Pope Francis has approved measures to sack bishops who mishandle such cases.
But it is unclear if the decree will affect Cardinal Barbarin.
Police are investigating whether he failed to take action against a priest, Bernard Preynat, who is accused of abusing boy scouts between 1986 and 1991.
The cardinal walked into a police station at 08:00 (06:00 GMT) on Wednesday. He was questioned as part of a preliminary investigation, officials said, and was not taken into custody.
Complaints against the priest were made by an association of alleged victims called Parole liberee (freed word) which collected dozens of witness statements.
Cardinal Barbarin did not move to the Lyon diocese until 2002 and says he knew nothing about the allegations until 2007.
"I have never covered up any act of paedophilia," he insisted earlier this year.
'Take responsibility'
However, further cases involving the diocese have emerged in recent months, including an abuse allegation that came to light in 2009 involving another Lyon priest. And there are questions over why Bernard Preynat continued to work for the diocese until 2015.
In March, Prime Minister Manuel Valls said the cardinal should "take responsibility, speak and act", but stopped short of calling for his resignation.
The Pope, who met the cardinal last month, has long promised a zero-tolerance approach to child abuse in the Catholic Church.
On Saturday, his Apostolic letter urged "special diligence" in caring for minors and vulnerable adults and said bishops who were "negligent" in dealing with priests committing abuse would be removed under new legal procedures.
Earlier this year, Vatican treasurer Cardinal George Pell admitted failing to act after a boy told him about a paedophile priest in Australia in 1974.
The priest was eventually jailed last year for abusing boys in the 1970s and '80s.
---
Victims' voices
Olivier, 46
Yes I was one of the victims... I don't want to mention all his [the accused priest's] actions as they're pretty much what many others have already described, former scouts at Saint Luc. He pulled me into various rooms in the parish, into his bedroom, into his tent during (scout) camps and also at the back of a car coming back from a ski trip.
If he hadn't been a priest he'd probably have been punished ages ago.
Clearly the framework of the Church offered him the chance for his "child hunt" and for stacking up his "trophies" with complete impunity.
Eric, 46
Until today I didn't even know his surname. I found out on Monday evening 25/1/16 on a Google news article which immediately caught me eye. The secret I'd hidden from my relatives until I was 33 affected dozens and dozens of people.
Cyril, 46
Like many victims I remember that smell of cigarillos and of his breath getting faster. Difficult to say how long it lasted. I'd say 10 minutes perhaps more. Ten minutes that felt like an eternity.
Sample of statements on the Parole Liberee (freed word) website
---