Euro 2016: Irish fans fear missing matches over French air strike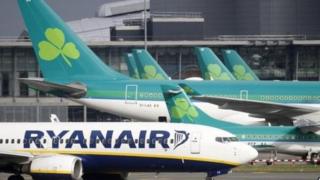 There are fears the cancellation of flights between the Republic of Ireland and France may affect many fans travelling to Euro 2016.
The strike by air traffic controllers will disrupt flights operating to or from France, or over French airspace, such as some flights to Spain.
Aer Lingus has cancelled several flights.
Ryanair has cancelled two flights from Dublin to Carcassonne,
A spokesperson for Belfast International Airport said: "There are currently no delays or cancellations to flights as a result of industrial action by French air traffic controllers.
"Passengers should, however, check with their airline for the latest flight information as the situation could change throughout the day."
It is the 50th strike by French air traffic controllers since 2009.
The Aer Lingus flights cancelled on Tuesday are:
EI508 - Dublin to Bordeaux
EI509 - Bordeaux to Dublin
EI544 - Dublin to Nice
EI545 - Nice to Dublin
EI562 - Dublin to Barcelona
EI563 - Barcelona to Dublin
EI552 - Dublin to Lyon
EI553 - Lyon to Dublin
Ryanair said customers would be updated on their flight status via email and/or the mobile phone number provided at time of booking.
"Unfortunately, further flight delays and cancellations are likely and customers are asked to please monitor this notice which will be updated throughout the day," it said.
"Ryanair sincerely apologises for any inconvenience caused by these unjustified ATC disruptions which are entirely outside of our control."