EU referendum: What the European papers say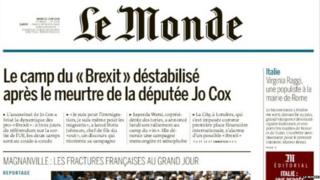 The recall of parliament to pay tribute to killed MP Jo Cox gives several European papers cause to consider the impact of her death on the British referendum campaign.
'Tempted by Remain'
In France, Le Monde's top story is that Jo Cox's death has "destabilised" the pro-Leave camp.
Le Figaro's Julie Connan has a special report on tributes to her memory, which it says is now "at the heart of the campaign" as "both camps fear being accused of exploiting or disrespecting" the tragedy.
Liberation's Sonia Delesalle-Stolper sees Britain "tempted by the Remain" campaign since the death of Jo Cox. She says that "nerves are still stretched, but words have become softer and less threatening".
"The referendum campaign has changed, and perhaps swung the other way," she concludes.
In Germany, the Frankfurter Allgemeine Zeitung's veteran UK correspondent Marcus Theurer travels through a country that has "changed dramatically, and not only since the death of Jo Cox".
He says the "fissure" running through Britain on the Europe issue may reflect frustration and bitterness, but is reassured that it has not let loose an "English Donald Trump trying to capitalise on the tragedy", let alone further violence.
'Rethinking Europe'
The press also addresses how the European Union should deal with a vote to leave.
European affairs analyst Renaud Thillaye tells Le Monde that the possibility of Britain leaving the EU should prompt leaders to "address the concerns of the people head-on and not ignore them".
Noting that the "anti-EU groundswell and rejection of elites that the Leave campaign surfs so brilliantly go far beyond Britain", he calls on EU leaders to "rethink how Europe functions" and allow member states more flexibility.
Florentin Collomp makes the same point in Le Figaro, saying that the people "no longer wants to heed elites" that the Leave campaign has portrayed as "unrepresentative, corrupt and in favour of a despised Europe out of self-interest".
The paper reports on opinion across the UK, noting concerns from both sides of the border in Ireland that Brexit could unravel the constitutional settlement.
Rural Wales "loves the EU and says so", largely because of generous agricultural grants, while Peterborough is dubbed the "capital of British Europhobia".
Frankfurter Allgemeine Zeitung finds business opinion "apprehensive" about the impact on Germany of its third-largest trading nation-partner leaving the EU. Anton Boerner, the head of the BGA foreign trade association, calls it a "catastrophe".
'Let them go!'
Some see a British departure as an opportunity, rather than a risk.
Germany's Die Zeit varies its diet of anti-Leave editorials with an opinion piece called "Let them go!" by European affairs analyst Eckart Stratenschulte. He says the UK's departure would be a "great opportunity to trigger the relaunch of the EU with varying levels of integration".
This would create a "smaller, but not weaker" core eurozone of 19 countries working together, rather than 28 countries in a "state of mutual paralysis". Britain could be an associate member, he grants.
Vladislav Inozemtsev agrees, telling the RBC Russian business daily that Brexit could prompt European leaders to push for a "more united Europe".
Die Welt's Mara Delius examines the gulf in cultural understanding between Britain and the rest of Europe.
She says Europeans find it difficult to accept that the "bloody mess that is the UK-European relationship" may also be their fault, largely because of an inability to "accept that our neighbours are different". The British are voting about themselves, not Europe," she says.
'European contagion'
Czech economist Jan Bures tells the EurActiv website that Brexit could be the "trigger for European contagion" in terms of a boost for "other anti-European parties, which often call for similar referendums, in the run-up to elections in France and Germany in 2017".
El Mundo sees a "significant economic impact" on Spain if Britain leaves the EU, with "uncertainty about the future of the EU" leading to market instability and a possible fall in earnings from British tourists.
Barcelona's La Vanguardia has no doubt that, whatever the model for a post-Brexit British relationship with Europe, it will "take years of difficult negotiations, both at home and abroad".
Opinions differ on the impact of a British Leave vote on the economies of Croatia and Slovenia, the two former Yugoslav members of the EU.
Croatia's SEEbiz.net portal surveys business analysts who conclude that Brexit would have "long-term negative effects on Croatia", while others tell the Seenews.com site that Croatia could attract more direct investment and Slovenia could "capitalise on its reputation as a safe haven".
Outside the European Union, Russian commentators are worried that a British vote could harm their own economy.
The official Rossiyskaya Gazeta says it could pose a "major threat" to the stability of the rouble, while Moskovsky Komsomolets says investor flight could undermine "oil prices and Russian shares".
BBC Monitoring reports and analyses news from TV, radio, web and print media around the world. You can follow BBC Monitoring on Twitter and Facebook.