Lionel Messi handed jail term in Spain for tax fraud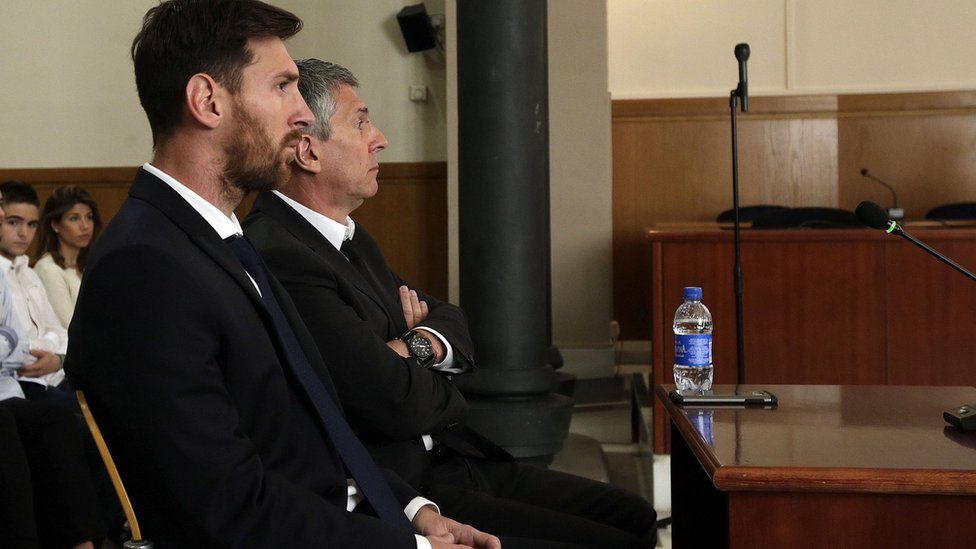 Argentina and Barcelona footballer Lionel Messi has been sentenced to 21 months in prison for tax fraud.
His father, Jorge Messi, was also given a jail term for defrauding Spain of €4.1m (£3.5m; $4.5m) between 2007 and 2009.
They also face millions of euros in fines for using tax havens in Belize and Uruguay to conceal earnings from image rights.
However, neither man is expected to serve time in jail.
Under the Spanish system, prison terms of under two years can be served under probation.
The footballer and his father were found guilty of three counts of tax fraud in Wednesday's ruling by the court in Barcelona.
As well as the jail terms, Messi was fined about €2m and his father €1.5m. They made a voluntary €5m "corrective payment", equal to the alleged unpaid tax plus interest, in August 2013.
The sentence can be appealed against via the Spanish supreme court.
Lionel Messi's illustrious career:
Winner of Fifa Ballon d'Or as world's best footballer on five occasions
Voted Uefa best player in Europe three times
Uefa Champions League winner with FC Barcelona on four occasions
Spanish championship winner with FC Barcelona eight times
Olympic gold medallist with Argentina in 2008
Argentina's all-time leading scorer with 55 goals
...and major disappointments:
June 16 2016: quits Argentine team after missing penalty in shootout in Copa America final loss to Chile
it was fourth major final defeat for Argentina in nine years
other three losses: Copa America (2015) again to Chile (again on penalties); 2014 World Cup to Germany; Copa America (2007) against Brazil
"FC Barcelona expresses its full support to Leo Messi and his father in relation to the conviction for tax fraud...
"The club... considers that the player, who has corrected his position with the Spanish tax office, is in no way criminally responsible with regards to the facts underlined in this case."