Nice attack: World leaders' reaction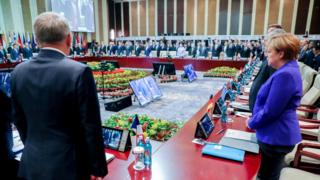 World leaders have joined the outpouring of sympathy for the victims of the Nice attacks.
US President Barack Obama was one of the first to call it a "terrorist attack". He said America's "thoughts and prayers are with the families and other loved-ones of those killed".
Calling France America's "oldest ally", he praised "the extraordinary resilience and democratic values that have made France an inspiration to the entire world".
The US Secretary of State John Kerry echoed the president's words, calling it a "horrendous attack."
"I was proud to stand alongside French leaders earlier today at Bastille Day celebrations in Paris, and the United States will continue to stand firmly with the French people during this time of tragedy," he added.
European Council President Donald Tusk, at the Asia-Europe Meeting (Asem) in Mongolia, called it "a sad day for France, for Europe", and was one of many to point out that the attack hit on the day France was celebrating freedom, equality and brotherhood.
He tweeted a picture of himself with other leaders and officials, standing for a moment of silence at the summit.
China's Premier Li Keqiang, also at the summit, commented: "We strongly condemn terrorism of all forms. We express our condolences to the victims and we will fight all kinds of terrorism."
Japanese Prime Minister Shinzo Abe, also at the summit, echoed the sentiment, saying that "cowardly terrorism engulfing innocent people is unforgivable", reported Jiji Press.
New UK Prime Minister Theresa May has not yet commented herself, but a spokesman for her called the attack "a terrible incident".
The new UK Foreign Secretary Boris Johnson tweeted the thoughts of many.
Canada's Prime Minister Justin Trudeau, tweeting in English and French, was one of many to stress solidarity with the people of France.
Australia's Prime Minister Malcolm Turnbull joined Foreign Minister Julie Bishop, in condemning the attacks.
Ms Bishop said: "Once again we stand resolutely with the people of France. Our thoughts and sympathies are with the victims and their families."
The United Nations Security Council also called the attack "barbaric and cowardly".