Turkey coup attempt: Crackdown toll passes 50,000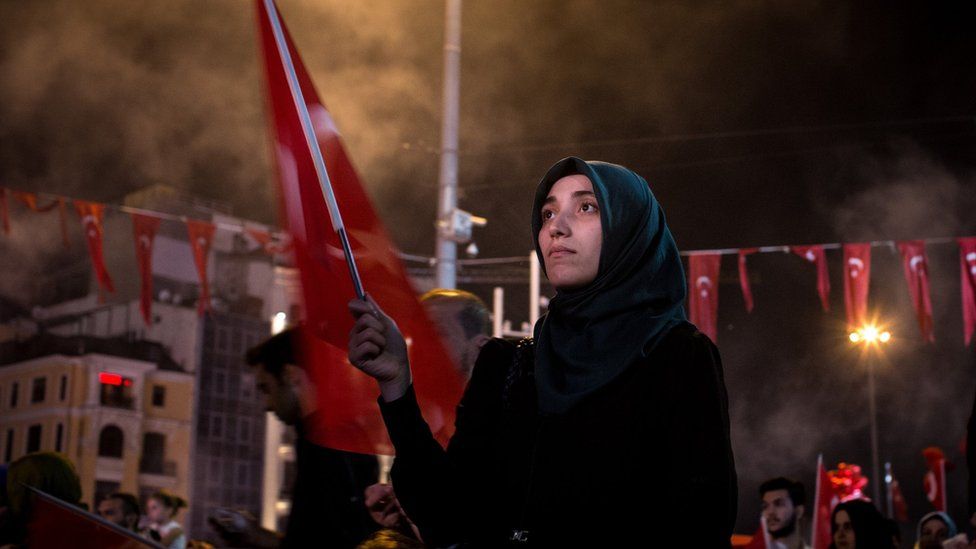 More than 50,000 people have been rounded up, sacked or suspended from their jobs by Turkey's government in the wake of last week's failed coup.
The purge of those deemed disloyal to President Recep Tayyip Erdogan widened on Tuesday to include teachers, university deans and the media.
The government says they are allied to US-based cleric Fethullah Gulen, who denies claims he directed the uprising.
PM Binali Yildirim said the preacher led a "terrorist organisation".
"We will dig them up by their roots," he told parliament.
Turkey is pressing the US to extradite Mr Gulen and the issue was raised during a phone call between US President Barack Obama and President Erdogan on Tuesday, the White House said.
Spokesman Josh Earnest said a decision on whether or not to extradite would be made under a treaty between the two countries.
A Turkish government spokesman suggested that the US should be able to extradite the cleric "on grounds of suspicion" rather than requiring facts of the case against him.
"There is very strong suspicion for his [Gulen's] involvement in this coup attempt. So this is sufficient grounds," said spokesman Ibrahim Kalin.
For his part, Mr Gulen says claims he was behind the coup attempt are "ridiculous".
"I urge the US government to reject any effort to abuse the extradition process to carry out political vendettas," he said in a statement.
President Erdogan is due to chair meetings of his national security council and cabinet in the capital, Ankara, on Wednesday, after returning to the city for the first time since the attempted coup.
The BBC's Nick Thorpe in Ankara says that the meeting will be the president's first chance since the coup attempt to sit and talk in person with all key members of the government and armed forces.
Mr Erdogan's task is to re-impose stability amid the turmoil, our correspondent adds, and to reassure the country and Turkey's allies abroad that he is not embarking on a witch-hunt against his many critics.
The Pentagon said that talks also took place on Tuesday between Defence Secretary Ash Carter and his Turkish counterpart, regarding the Incirlik air base in southern Turkey.
The base is used by the US-led coalition fighting so-called Islamic State in Syria and Iraq.
Meanwhile, the Turkish government crackdown widened on Tuesday to include the education sector and government departments.
Turkish media announced that:
15,200 teachers and other education staff had been sacked
1,577 university deans were ordered to resign
8,777 interior ministry workers were dismissed
1,500 staff in the finance ministry had been fired
257 people working in the prime minister's office were sacked
Turkey's media regulation body on Tuesday also revoked the licences of 24 radio and TV channels accused of links to Mr Gulen.
The news came on top of the arrests of more than 6,000 military personal and the sackings of nearly 9,000 police officers. About 3,000 judges have also been suspended.
The removal of thousands of officials has alarmed international observers, with the UN urging Turkey to uphold the rule of law and defend human rights.
A senior German official said on Tuesday that "a deep split" had opened in Turkey, and he feared the divisions would cause unrest among Germany's large Turkish community.
"The danger of an escalation in violence between Erdogan supporters and opponents has also risen in Germany," Bavarian Interior Minister Joachim Herrmann told the Berliner Zeitung newspaper.
The President of the European Parliament, Martin Schulz, has accused Turkey of carrying out "revenge" against its opponents and critics.
He also said a debate around restoring the death penalty was "deeply worrying". The EU has warned such a move would end talks over Turkey joining the bloc.
According to official figures, Friday night's coup attempt left 232 people dead and 1,541 wounded.
Are you in Turkey? Have you lost your job or been affected in some way by the crackdown? You can email haveyoursay@bbc.co.uk with your experiences.