Russian airlines resume passenger flights to Turkey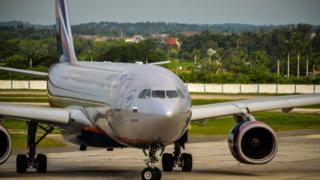 Russian airlines have resumed regular passenger flights to Turkey, after a temporary suspension in the wake of the failed coup in Turkey was lifted by Russia's transport ministry.
The ministry lifted restrictions "after receiving assurances from the Turkish side on urgent measures taken for the increased security of Russian citizens," it said (in Russian).
Turkey's tourism relies on Russians.
Earlier Russia and Turkey resolved a bitter row triggered by the Syria war.
Last month Turkish President Recept Tayyip Erdogan apologised for the downing of a Russian military jet on the Turkey-Syria border in November.
Angered by that incident, Russia had imposed trade sanctions on Turkey, including a ban on charter flights to resorts popular with Russian tourists.
Charter flights remain suspended but Russian authorities say they are moving to resume those too.
Turkey's Mediterranean coast is a magnet for Russian holidaymakers and many Turkish businesses have come to rely on large numbers of Russian visitors in the summer.
Turkey was shaken by a terror attack at Istanbul's Ataturk Airport on 28 June, carried out by three suspected Islamic State (IS) suicide bombers.
The attackers arrived in a taxi and began firing at the terminal entrance, then blew themselves up after police fired back. The carnage left 44 people dead and 240 injured.