Marta Herda guilty of Arklow pier crash murder of Csaba Orsas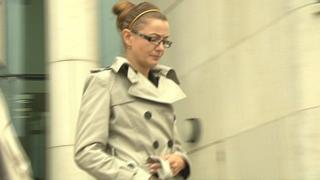 A 29-year-old woman has been found guilty of murdering her colleague by driving him off a pier into deep water.
Marta Herda, of Emoclew Road in Arklow, County Wicklow, had denied the murder of 31-year-old Csaba Orsas at the town's South Pier on 26 March 2013.
The prosecution said she deliberately drove off the pier knowing Mr Orsas could not swim.
They said Herda had used her car as "an instrument of murder". She will be sentenced at a later date.
She faces a mandatory life sentence.
The trial heard the pair had been in Herda's car when it crashed through a barrier and went into the water in the early hours of the morning.
Herda managed to swim to safety, but Mr Orsas could not swim and his body was found on a nearby beach later that day.
The trial was told that they had worked together and that he was in love with her, but she did not feel the same way.
She told police he had spent two years following her, phoning her and sending her messages.
The prosecution said Herda had left her own window down and was wearing light clothing on a bitterly cold night.
The senior prosecution counsel told the jury that phone evidence showed that Herda rang Mr Orsas three times on the morning of his death and within 15 minutes, he was in her car which was then driven into the water.
However, a defence lawyer said the prosecution's case was "completely unsustainable" and did not make any sense.
He said if Herda had deliberately driven off the pier, it would be suicide.