Spain arrests women as flashmob stunt sparks terror fears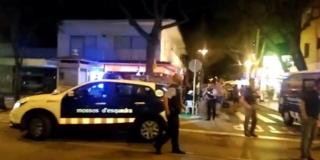 Five German women were arrested on Tuesday night when a flashmob stunt in a northern Spanish town sparked fears of a terrorism attack.
They have since been released but will be charged with public order offences.
Holidaymakers ran and hid from presumed attackers in Platja d'Aro after people pretended to be chasing a celebrity, shouting and taking photographs.
The panic turned into a stampede as bystanders mistook selfie sticks for weapons.
Eleven people were treated for bruising and heart palpitations. Three were taken to hospital.
Police were called to the centre of the town following reports that shots had been fired. The reports turned out to be false.
Videos on social media showed children in tears as people around them cowered under tables.
The German newspaper Die Welt (in German) said that about 200 people took part in the flashmob, which was organised by several Germans.
Apparently those taking part were invited on social media to go down to Platja d'Aro on Tuesday evening and behave like paparazzi.
The detained women, aged between 20 and 25, were in the Costa Brava town accompanying a youth group trip.
The president of Catalonia tweeted that some things should not be joked about. He also praised the reaction from the town council and police.