Rio Olympics: Italian fencer dedicates medal to terror dead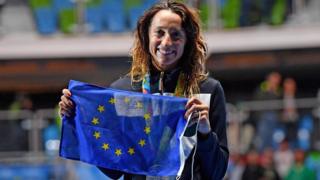 An Italian fencing silver medallist held up an EU flag at the Rio Olympics, saying a united Europe could defeat Islamist terrorism.
Elisa di Francisca, defending champion in the women's individual foil, lost to Russia's Inna Deriglazova.
Referring to the EU flag, she said: "Europe exists and is united. I did it for Paris and Brussels. If we remain united we can defeat terrorism."
Jihadists killed 147 people in Paris last year and 32 in Brussels this year.
European Parliament President Martin Schulz welcomed Di Francisca's gesture, calling it a "powerful message of unity", in a tweet.
The EU's foreign policy chief Federica Mogherini - an Italian like the fencer - tweeted "the flag of Europe, the ideals of the best youth - bravo twice".