Italy earthquake: Museums to donate Sunday revenue to quake relief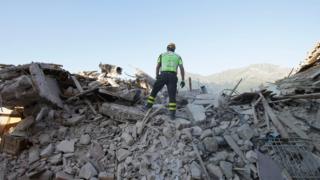 Sunday's proceeds from public museums across Italy will be dedicated to rebuilding work after the earthquake that killed 290 people on Wednesday.
Many churches and other medieval buildings were destroyed when the magnitude-6.2 quake struck Amatrice and other parts of the central region.
Amatrice's mayor said he wanted to restore his town to its former glory.
The country's prime minister and president both attended a funeral for 35 victims on Saturday.
Lingering after the service at a sports hall in the town of Ascoli Piceno, Prime Minister Matteo Renzi talked to some of the mourners.
"We will decide all together how to get going again," he told one young person. "But don't give up, that is crucial."
Bishop Giovanni D'Ercole told the congregation that people had to be brave enough to rebuild their lives, and their towns.
Culture Minister Dario Franceschini said 293 culturally important sites in the area affected, many of them churches, had either collapsed or been seriously damaged.
He urged Italians to go out in force on Sunday to visit museums and archaeological sites "in a concrete sign of solidarity" with quake victims, who would be supported by the money raised.
The appeal to rebuild was echoed by Sergio Pirozzi, the mayor of Amatrice, the worst-affected town which lost 229 inhabitants in the earthquake.
"We want to restore Amatrice to what it was when they were here," he told the BBC's Newshour programme.
"Getting down to work - for them - is the right thing to do. It would be a wonderful way to make them happy. Their sacrifice means that we owe it to them."
Italy's government has been criticised for failing to prevent deaths after the 2009 earthquake in nearby L'Aquila left 300 dead.
Historic towns do not have to conform to anti-quake building regulations, which are also often not applied when new buildings are put up.
Amatrice's mayor said he would not stop until building regulations had been tightened.
He called for an "Italy that isn't just good during the World Cup or the Olympics or during emergencies but also one that can ensure the highest possible standards of security for its citizens".
---
Are you in the areas directly affected by the earthquake? You can email us at with your stories and please include a telephone number if you are happy to speak with a BBC journalist.
You can also contact us in the following ways: