Turkey purges 13,000 police officers over failed coup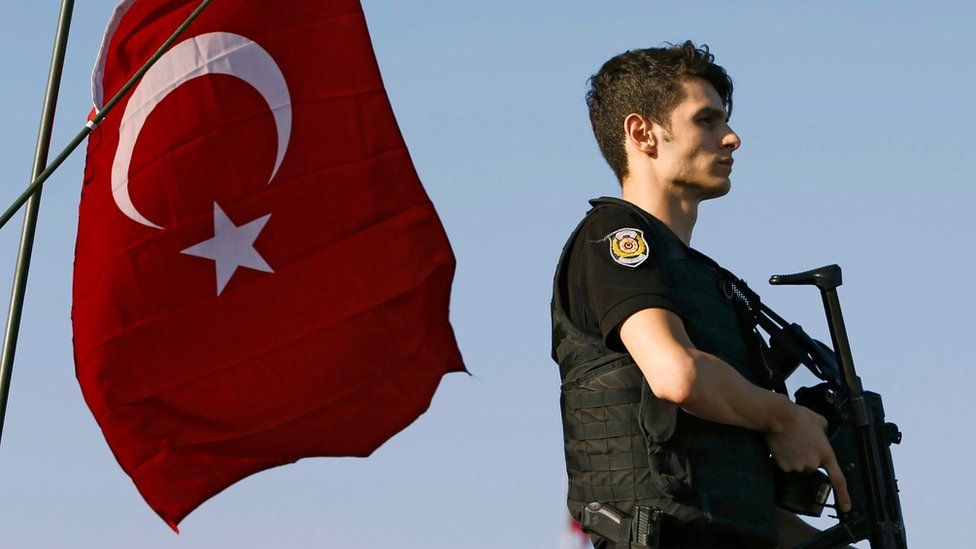 Turkey has suspended almost 13,000 police officers for their alleged links with the US-based Muslim cleric, Fethullah Gulen.
The latest wave adds to the 100,000 or so government workers dismissed or suspended since July's failed coup.
Mr Gulen denies the government's accusation that he or his supporters orchestrated the coup.
The government in turn rejects claims it is using the coup as an excuse to get rid of its opponents.
It insists those without proven links to the coup will be freed.
More than 2,500 officers whose suspensions were announced on Tuesday were police chiefs, said Turkish national police in a statement.
It comes hours after the government announced that a state of emergency imposed shortly after the failed putsch would be extended by three months when it expires on 19 October.
The emergency allows the president and cabinet effectively to rule by decree, bypassing parliament when drafting new laws and able to restrict or suspend rights and freedoms.
There are fears that under the state of emergency - and in a country where judicial independence has plummeted - opponents are being rounded up with little chance to clear their name, says the BBC's Mark Lowen in Istanbul.
He says the depth of the purge is staggering, with thousands suspended, dismissed, detained or arrested - from teachers to soldiers, police to judges, aircraft pilots to journalists.
In some areas, such as in eastern areas where there are large Kurdish populations, so many teachers have been detained - some accused of supporting the banned Kurdish rebel PKK group - that schools have effectively been forced to shut.
Silent schoolyards: Hatice Kamer, BBC Turkish, Diyarbakir
In the Kurdish areas, education has been hit twice this year: First by violence between security forces and PKK militants and then by the purge that followed the attempted coup.
In Diyarbakir, the biggest Kurdish city in the region, 4,000 teachers have been suspended.
Ali, a high-school student, moved to Diyarbakir to continue his education after clashes in his hometown, Sirnak, closed all the schools.
But he has been stymied here too. Since the coup attempt 19 teachers in his new school have been dismissed, meaning there is very little tuition left.
He now uses the past tense when discussing his ambitions. "Going to university," he says, "was my dream."
"I was working very hard to get a good job. But even our teachers are jobless now. What's the point?"
The schoolyards in Diyarbakir are mostly silent as school directors search desperately for new teachers.
The government says they will deploy 20,000 teachers to fill in.
But time passes by. In this region, there is little hope among students, teachers and parents that education standards can be maintained.
More than 130 media outlets have also been shut down.
Turkish authorities have repeatedly appealed to the US to extradite Mr Gulen and say they have presented documents proving his involvement in the coup bid.
Mr Gulen's lawyers insist he had no involvement in the coup attempt, and say he will not have a fair trial if extradited to his homeland.
Coup plot and anti-Gulen fervour