Italy quake: Thousands spend night in temporary accommodation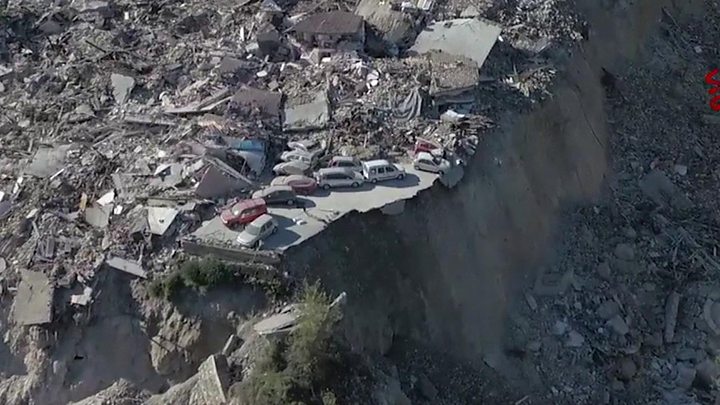 Thousands of people in central Italy have spent the night in cars, tents and temporary shelters following the fourth earthquake in the area in three months.
The 6.6-magnitude quake - Italy's strongest in decades - struck close to the region where nearly 300 people were killed by a quake in August.
This time no-one appears to have died in the quake near the town of Norcia, but about 20 people were injured.
More than 100 aftershocks were registered overnight into Monday.
These included one with a magnitude of 4.2.
Tremors from the latest earthquake were felt in the capital Rome, some 150km (90 miles) away. The metro system was closed on Sunday and an early 20th Century bridge, Ponte Mazzini, has been shut to traffic after cracks appeared.
Why multiple earthquakes are hitting Italy
At least 15,000 people are estimated to be in temporary accommodation, including 4,000 who have retreated to shelters provided by the authorities on the Adriatic coast.
In Norcia, in the Umbria region, some locals have decided to stay in their homes, while others spent the night in tents pitched near the town or have left for the coast.
Prime Minister Matteo Renzi is chairing a cabinet meeting to discuss emergency reconstruction efforts.
Norcia resident Stefano Boldrini, who is now living in a van with his eight-year-old daughter, was asked if they planned to stay in the area.
"How could we? There's no more school, or church, or police station. There's nothing here any more," he said.
The medieval basilica of St Benedict in Norcia was among many historic buildings that were destroyed.
An evacuation of vulnerable buildings in central Italy last week, following strong aftershocks from August's quake, may have saved lives.
Officials said three people were dug out of the rubble alive in the town of Tolentino on Sunday.
Giuseppe Pezzanesi, mayor of Tolentino, said the small town had "suffered our blackest day yet".
"The damage is irreparable. There are thousands of people in the streets, terrified, crying," he said.
Sunday's quake - 6.6 as measured by the US Geological Survey - came on top of August's quake and two last week of magnitude 5.5 and 6.1.
Other towns and villages to have suffered damage include Castelsantangelo, Preci, Ussita and Arquata.
Central Italy has seen several major quakes in recent years. Earthquakes which devastated the town of L'Aquila in 2009 and Amatrice in August this year killed about 300 people each.
But they both measured only 6.2 and were deeper than Sunday's earthquake.
---
Italy's most violent earthquakes since 1900
October 2016 - Norcia, central Italy, magnitude 6.6, no deaths reported so far
November 1980 - Campania, southern Italy (Naples badly hit), magnitude 6.9, up to 5,000 killed
July 1930 - Irpinia, Campania, magnitude 6.6, 1,400 killed
January 1915 - L'Aquila, magnitude 6.7, more than 30,000 killed
December 1908 - Strait of Messina, magnitude 7.1, up to 200,000 killed by earthquake and tsunami
September 1905 - Calabria, magnitude 7.2, up to 2,500 killed by tsunami
---
Are you in the area? Have you been affected by the earthquake? Email haveyoursay@bbc.co.uk with your stories and pictures.
Please include a contact number if you are willing to speak to a BBC journalist. You can also contact us in the following ways:
·WhatsApp: +44 7525 900971
·Tweet: @BBC_HaveYourSay
·Send an SMS or MMS to +44 7624 800 100