Famous Soviet-era clown Oleg Popov dies at 86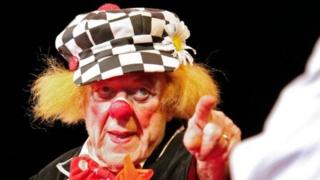 Russians are paying tribute to Oleg Popov, a Soviet-era clown who became a cultural icon.
Popov died suddenly on Wednesday from a heart attack while on tour in Rostov-on-Don in south-west Russia, the local circus director said.
He rose to fame touring Europe in the 1950s with the state circus. He also toured Asia and North America and starred in several films.
In 1969 he was given the title of "The People's Artist of the Soviet Union".
Popov graduated from Moscow Circus School in 1949 aged 19 and was subsequently signed up by the Great Moscow State Circus, a government-run circus organisation.
His big break came in 1954 when he stepped in for the head clown who had broken his arm while performing. Popov took over as head clown two years later.
The celebrated performer was an early part of the Soviet Union's attempt to strengthen its international image under Nikita Khrushchev, when his circus embarked on a Kremlin-organised tour of Western Europe in 1956.
It was the first foreign performance by a Soviet circus group.
Russian Culture Minister Vladimir Medinsky offered his condolences in a statement, saying that Popov's performances "brought joy and goodness to many generations of our compatriots".
"He managed to create a unique image of an eccentric clown who radiated light just by making an appearance, and turned every performance into a festivity," he added.
The Moscow State Circus joined the tributes by offering to host a farewell celebration to the star, praising his "generosity, multi-faceted talent and dedication".
He is survived by wife Gabriela Lehmann, a German circus performer, and a daughter from his first marriage, Olga Popova, a violinist who also lives in Germany.
Following any tribute in Moscow it is likely that Mr Popov will be buried in Germany, his home since the 1990s.