Pope Francis holds Vatican mass for 1,000 prisoners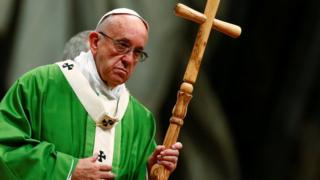 Pope Francis has held a mass for 1,000 serving prisoners at the Vatican, telling them that they should never give up hope.
The inmates were from 12 countries. Some 3,000 people joined the mass.
The pope regularly visits prisoners, but it was the first time so many inmates were received at the Vatican.
He also urged political leaders to respect the dignity of inmates and offer them amnesty whenever possible, and to abolish the death penalty.
The pontiff asked authorities to improve prison conditions and favour policies that help offenders return to society.
"Let me tell you, every time I go into a prison I ask myself, 'Why them and not me?' Everyone has the possibility to make mistakes, everyone. All of us have made mistakes.
"But there's a certain hypocrisy where we don't think about the possibility that people can change their lives. We put little trust in rehabilitation, in the reintegration into society.
"Hope is a gift of God," he said. "Certainly, breaking the law involves paying the price, and losing one's freedom is the worst part of serving time, because it affects us so deeply. All the same, hope must not falter."
The Vatican said no special security arrangements were in place for the Mass on Sunday. The inmates, including many foreigners, came mostly from Italian jails, and were joined by their families as well as prison chaplains and volunteers.