Turkish mother who threw slipper at son may be jailed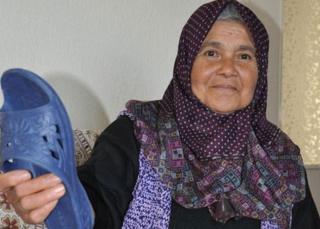 A 62-year-old woman in western Turkey faces a possible jail sentence for throwing a plastic slipper at her son during a family row.
Hasan Guzel complained to the police about his mother Senay and she was charged for "use of a weapon" with intent to cause injury.
Under Article 86 of the penal code, she could get two to five years in jail.
"I just took it off and threw it... I missed," she told Dogan news agency. She lives near the city of Denizli.
"He came to beat me and I threw the slipper," she told police.
She threw it after her son had tried to enter her home, she added. It is not clear what triggered the argument.
When asked if she considered the slipper to be a weapon she replied: "I guess not. Look at it. But they say it is. If it was a house slipper I'd understand. They are heavy. But this is just a plastic one. It's light."
Her lawyer, Hasan Ozan Orpak, said the case could set a precedent, and "from now on, mothers should think twice before throwing slippers," Turkey's Hurriyet news website reported.