Storm Angus: Ferry passengers stuck at sea overnight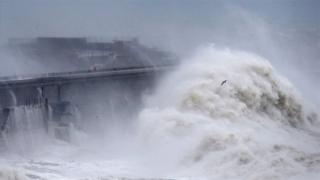 A ferry travelling from the Republic of Ireland has been stuck at sea overnight due to severe weather conditions.
Stena Line said an attempt to dock the vessel, carrying 146 people, will be made at midday.
The service left Rosslare, County Wexford at 09:00 local time on Monday and was due at Fishguard in Wales at 12:30 GMT.
It failed to reach the port and another attempt to dock at 15:30 GMT was also unsuccessful.
Stena Line said the ferry would remain about 6km offshore overnight with 87 passengers and 59 crew on board.
It said the safety of those on the vessel was "of paramount importance".
Stena Line cancelled Monday night's Rosslare to Fishguard sailing because of the poor weather conditions.
Heavy rain across Wales has resulted in homes and schools being flooded and the cancellation of trains.
Diane Poole from the ferry operator said the vessel should arrive at the harbour by about 10:00 GMT, when the ship's captain will decide whether it is safe to dock.
"Hopefully we will get the ship berthed before the 12 o'clock we said yesterday," she told BBC Radio Wales' Good Morning Wales.
She said the passengers were in "really good spirits" despite their night at sea.
"The ship was well sheltered, they had a comfortable evening and they were well looked after, and they are in very good form this morning."