The stories that prove 2016 was not the Worst Year Ever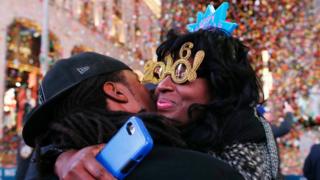 If there is one thing everyone can say for 2016, it is that it will be memorable.
From filth-strewn political grapples to natural disasters to terror attacks, the headlines have felt darker than ever.
There have also been more than a few passings to mourn - from David Bowie to Prince.
But what about those stories which have made us smile, or warmed our hearts? Here are a few of our favourites...
---
1) The centenarian showing Michelle a few moves
2016 was also the year when we all learnt we had been out-danced by an 106-year-old.
Virginia McLaurin put couch potatoes across the world to shame when she met Barack and Michelle Obama back in February.
Mrs McLaurin, who is now a spritely 107-year-old, was so happy to meet America's first black president, she simply couldn't stand still.
---
2) The Messi fan and a plastic bag
On the other end of the age spectrum was football fan with a passion for Lionel Messi.
Murtaza Ahmadi, then just five, sparked a worldwide hunt after a picture of him wearing his very own, homemade "Messi" shirt - which had been transformed from its humble start as a blue-and-white striped plastic bag to an essential part of Murtaza's football kit - appeared online.
But even after he was found, nobody could have guessed this little bit of creative fashion design could have led from a small village in Afghanistan to a football pitch in Qatar.
---
3) The moment the Koreas united (sort of)
At first glance, it is just your average selfie, taken by thousands of teenagers around the world.
But this selfie - taken by Lee Eun-ju and Hong Un-jong during a training session at the Rio Olympics - had international significance thanks to their at-odds nations.
Not everyone was feeling quite as friendly, however,
This picture of the US's Michael Phelps apparently giving South African Chad Le Clos a "death stare" before a training session also went viral.
---
4) The amazing rescue in Italy
August's earthquake in central Italy left 298 people dead and entire towns ruined.
But among the horror were amazing stories of survival and bravery in the face of terrible danger.
However, it was the story of one very calm dog - pulled alive from the rubble after nine days - which really touched the hearts of readers.
---
5) The chicken of the sea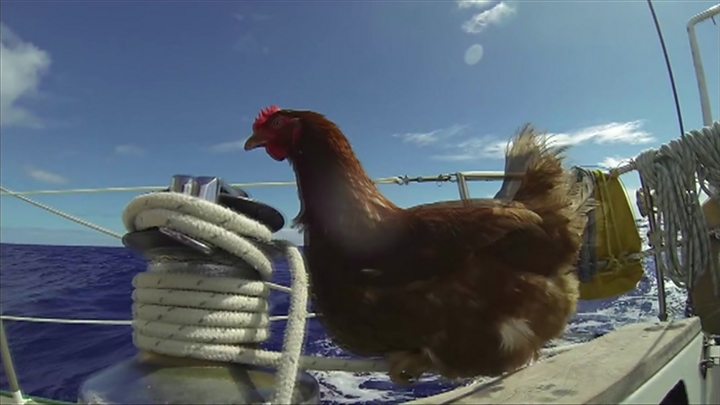 But anything a dog can do, a hen can do better.
In fact, 2016 was the year that one particular chicken decided it was time to graduate from crossing the road to traversing the seven seas, with a little help from her devoted human companion.
Altogether now: awwwwww.
---
6) That time one man did the unthinkable for a friend
While chickens were making great leaps forward, man, it seems, was taking a few steps back.
In Norway, one extraordinarily devoted friend decided to go above and beyond the call of duty for his fellow man, and climbed into a public toilet to rescue a lost phone.
You can either let your imagination do the rest - or find out exactly why it might not have been such a good idea here.
---
7) One boy's kind gesture
For those who need their faith in humanity restored after that need look no further than six-year-old Alex.
The New Yorker wrote to President Obama to ask for something very special.
And President Obama was so impressed with the little boy he not only shared the letter on the White House website, but also invited him to visit.
---
8) A hairy horror story
It sounds like something straight out of a horror movie, and certainly not the kind of thing to make a "feelgood" round up of the year.
And yet Australia's "hairy panic" raised more than a few smiles around the world.
Although, probably not in the town affected...
---
9) The grandfathers putting the rest of us to shame
They are separated by entire continents, but two pensioners have been showing they still have more to give - long after everyone else has retired.
Nepali grandfather Durga Kami, 68, and Devon local Joe Bartley, 89, both decided to hang up their slippers and get back out in the world after losing their wives.
And both stories, unsurprisingly, left people with a warm and fuzzy feeling inside.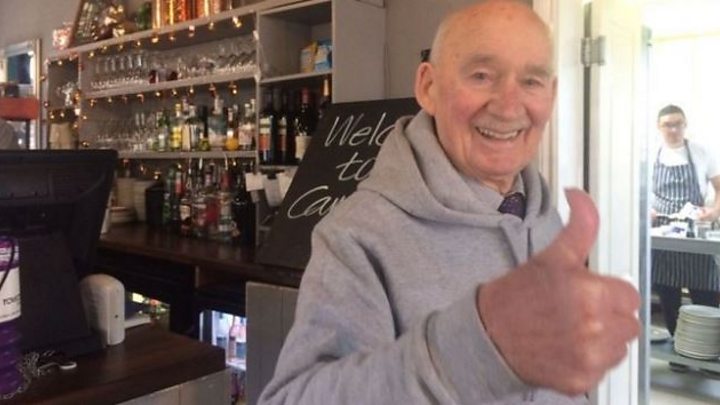 Merry Christmas, everybody.