Putin turns down Japanese dog gift, MP says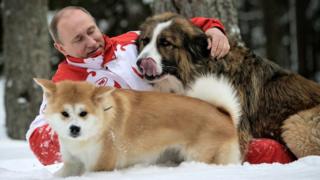 Russian President Vladimir Putin has turned down the offer of a dog as a gift from the Japanese government, according to a Japanese MP.
Koichi Hagiuda did not give a reason as to why the gift had been rejected.
Japan gave Mr Putin a female Akita called Yume in 2012. This dog was intended as a companion for her.
Mr Hagiuda wrote in a blog post: "Unfortunately, we heard from our counterparts, and our hope to present a bridegroom was dashed."
If accepted, the gift would have been presented to the Russian president at a summit with Japanese Prime Minister Shinzo Abe in Japan next week.
Akitas originate from northern Japan.
Mr Putin also owns a male Bulgarian Shepherd called Buffy, which was given to him by the Bulgarian prime minister in 2010.
His Labrador, Konni, given to him as a gift by Sergey Shoigu, currently Russian defence minister, died in 2014.
Mr Putin once brought Konni to a meeting with German Chancellor Angela Merkel, who is scared of dogs. Some press reports at the time said he had done so to intimidate her. But earlier this year, Mr Putin told a German newspaper that he did not know about her fear.
He said: "When I learned that she does not like dogs, I apologised, of course."