France robbery: Thieves steal 70kg of gold on motorway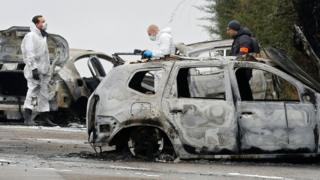 Armed thieves are on the run in France after stealing 70kg (154lbs) of gold in a motorway heist on Monday.
The gang of four swooped on a security van in two cars, using one to block the road's exit, near the city of Lyon.
The robbers then put the powdered gold, worth €1.5m ($1.6m; £1.3m), into their getaway car, locking two security guards in the back of the van and setting fire to their other vehicle.
The two guards were rescued by police after a tip-off from a witness.
The thieves fled immediately, leaving the fire to spread and gut nearby vehicles before it was put out by firefighters.
The robbery took place on the A6 motorway, which connects Lyon to Paris.
Police said they are hunting for the perpetrators.
---
Other recent high-profile robberies: