Afghan murder suspect in Germany 'was jailed in Greece'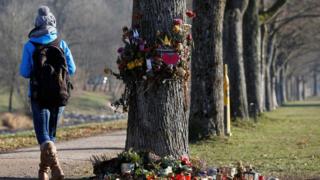 An Afghan teenager arrested on suspicion of the rape and murder of a woman in south-west Germany had already been convicted of attempted murder in Greece, reports say.
Germans were outraged by the murder of Maria L, a student in Freiburg who volunteered for a refugee charity.
A Greek lawyer has now alleged that the man suspected of killing her also tried to kill a young woman in Corfu.
He was given a 10 year-sentence but was apparently freed after about 18 months.
Greek reports said he had robbed the woman and pushed her over an eight-metre drop, and it was only because his victim was an experienced mountaineer that she survived with serious injuries. Some reports said he had a swastika tattooed on his left arm.
Lawyer Maria-Eleni Nikopoulou was able to identify the Freiburg suspect, Hussein K, from photos. "Yes that's the young man I defended in 2013. I have no doubt," she told Germany's DPA news agency.
---
Read Jenny Hill's report: Freiburg murder fuels tensions in Germany
---
Sent to jail on the Greek mainland in 2014, he was released on parole on 31 October 2015 and is thought to have made his way via Austria to Germany during the following fortnight.
His age was unclear as he had no identification but German authorities took him in as an unaccompanied minor. Many of the asylum seekers who travelled across the Balkans to Germany last year did not carry passports.
Maria L was raped and murdered in October and Hussein K was detained a fortnight ago. Since his arrest, he has refused to give evidence to German authorities.
Although he has said he is 17, he was also described as 17 during his time in Greek detention.
Forensic officials have been asked to conduct medical tests to assess his real age. If convicted as a juvenile under the age of 18, he would face a maximum sentence of 10 years.
Although German police are yet to confirm the details of his earlier conviction with their Greek counterparts, the revelations from Corfu have raised questions about the asylum process.
Because his DNA did not show up on a European register and there was no international arrest warrant for him, the local youth welfare office placed him with a foster family.