Dublin flight to Abu Dhabi diverted over 'security threat onboard'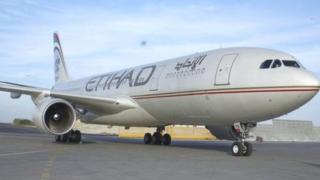 An Etihad Airways flight from Dublin to Abu Dhabi was diverted to Al Minhad military base in Dubai on Friday.
The diversion followed a "security threat onboard".
The guests, baggage and aircraft crews went through additional security screening which took several hours, according to the airline.
The majority of transferring guests were re-booked on flights on Saturday morning and were offered overnight accommodation in Abu Dhabi.
Etihad Airways has apologised for the inconvenience caused.
In a statement the airline said "the safety and security of our guests and crew is our top priority.
"The crew completed all necessary in-flight checks as per procedure, with no abnormalities found, then followed the authorities' instructions to undergo further security checks at the air base."