France avalanche: Four killed at Tignes ski resort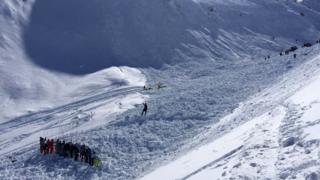 Two teenage boys are among four French snowboarders killed in an avalanche at the ski resort of Tignes in France.
The snowboarders, led by an instructor, died when the wall of snow swept through an off-piste area just after 10:30 local time (09:30 GMT) on Monday.
It had been feared more people had been caught up in the disaster.
But Albertville Deputy Prefect Nicolas Martrenchard later told Agence France-Presse that "the definitive death toll is four victims".
"We lament the four deceased... It was an avalanche on a huge scale," he had earlier told a press conference.
The group had been walking off-piste in the south-eastern resort with their snowboards in their hands when the avalanche hit, the press conference was told.
The group, which included a 48-year-old man, his 15-year-old son and the son's 19-year-old half-brother, as well as the experienced and well-known instructor, 59, were only a few dozen metres from the ski lift.
They have not been named, but local police told the BBC they were all French nationals.
A fifth person is reported to have left the group moments before, and is said to be speaking with the authorities.
The 400-metre (1,300ft) wide avalanche occurred at an altitude of 2,100 metres, and struck at a particularly busy time during half-term holidays.
The resort is popular with British holidaymakers.
The avalanche appeared to have been set off by a group of skiers higher up, the ski station said in a statement.
Rescue services deployed two helicopters as well as sniffer dogs to help search for those missing. There are about 40 people involved in the rescue operation.
The avalanche warning level at Tignes on Monday was three out of five, France's Dauphine Libere reported.
The incident is the worst in France since the beginning of this year's ski season.
There were 13 previous skiing accidents in the Alps and Pyrenees this winter, killing three people.
Last winter, there were 45 accidents, causing 21 deaths.
---