Dutch election: Wilders halts public activity over leak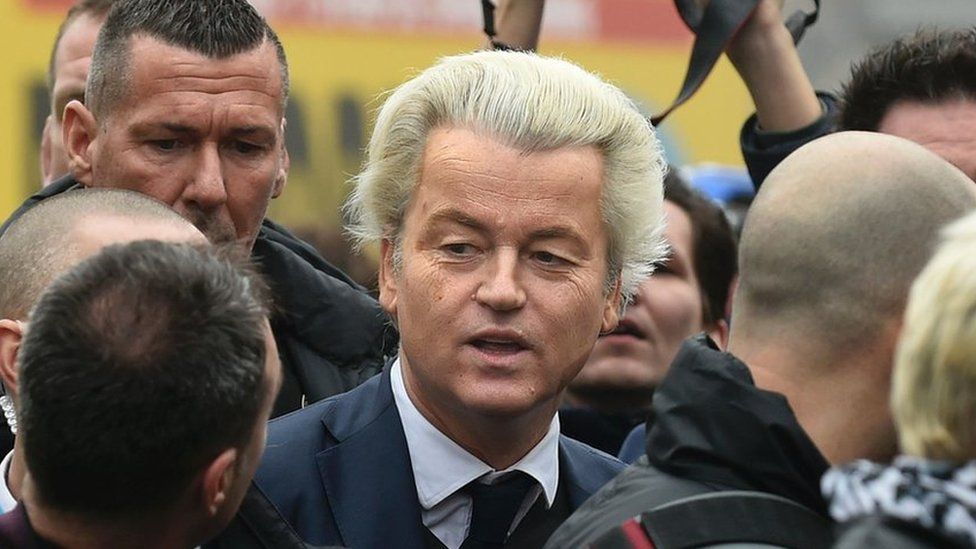 Dutch anti-Islam politician Geert Wilders says he and his party are suspending public activities until more is known about the leak of information about him to a Dutch-Moroccan gang.
A police agent was arrested for the leak on Wednesday but has since been released, reports said.
The agent was already under investigation for leaking police information, Algemeen Dagblad reported.
Mr Wilders was not in any danger as a result of the leak, police said.
The politician has long had 24-hour police protection over fears he could be attacked for his anti-immigrant politics.
Three weeks ahead of the Dutch elections, his Freedom Party (PVV) is level in polls with Prime Minister Mark Rutte's ruling Liberals, having previously been in the lead.
Both parties would get about 25 seats in the 150-seat parliament, according to the polls.
Announcing his decision to halt public activities on social media, Mr Wilders called news of the leak "very disturbing".
The arrested agent - from the DBB security team, which is responsible for security around the Dutch royal family, diplomats and high profile politicians - is of Moroccan descent.
He was already suspected of leaking police information while serving as a police officer in the city of Utrecht and his brother had been fired from the same force for similar leaks, local media said.
Mr Wilders has made headlines for calling some ethnic Moroccans "scum" and vowing to reduce the number of ethnic Moroccans living in The Netherlands if he becomes prime minister.
He was convicted of discrimination over his statements in December, but the court did not impose any punishment.
He had also pulled out of one of three TV debates with the other candidates after broadcaster RTL aired an interview in which his brother described RTL as "unbelievably lowlife scum".
Meanwhile, Mr Rutte has sought to attract potential PVV voters by telling people who reject Dutch values to go and live somewhere else.
The Dutch election is the first in a crucial election year for countries at the heart of the EU.