Mark Rutte: Survivor of Dutch politics in fight for political life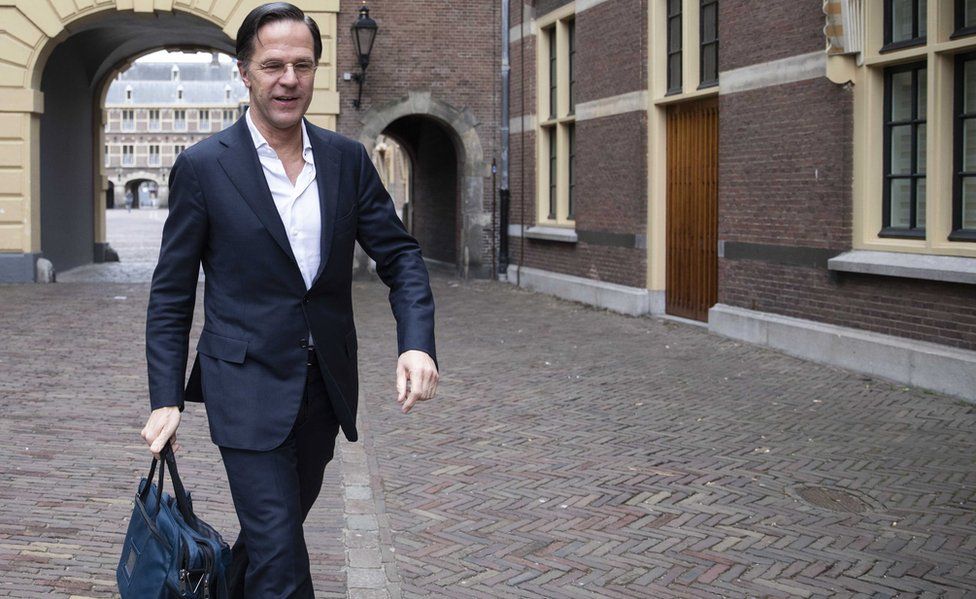 With more than a decade as prime minister under his belt, Mark Rutte is one of the wiliest survivors in European politics.
He has steered his centre-right liberal VVD party through political crises, winning election after election. His most recent victory came in March, weeks after his cabinet resigned over a child welfare scandal.
No wonder he has earned the nickname "Teflon Mark", overcoming a political crisis that affected thousands of parents.
But his narrow victory in a no-confidence vote in the early hours of 2 April appears to be more than just another awkward scrape.
He denies lying over coalition talks, but the Rutte brand has been badly tarnished and a fourth term in office is now in doubt. His biggest coalition ally, Sigrid Kaag of the liberal D66, filed a motion disapproving of his conduct and every party in parliament backed it but his own.
"If I were him I wouldn't continue," she said, adding that her confidence in him had been severely damaged. "I blame him for that too."
On the face of it Mark Rutte, 54, is Dutch politics personified. A man with a modest lifestyle who goes to work and even the palace on his bike, he has mastered the art of reaching consensus and maintaining a stable coalition.
The Dutch response to the coronavirus pandemic has been far from successful, and yet he still led his party to a decisive victory in the March vote.
How Teflon Rutte made his mark
Mark Rutte has been dodging crises for years, but few have been bigger than the Dutch handling of the Covid pandemic or the child welfare scandal, in which thousands of parents were wrongly accused by their government's tax office of fraud.
When one of the victims, Kristie Rongen, took him to task in a live pre-election debate accusing him outright of complicity, Mr Rutte agreed it was appalling but promised everything was being done to put it right. The scandal barely figured in the election campaign.
"Nothing seems to stick to him and people think it should have - like the child benefits scandal," Prof Tom Louwerse of Leiden University told the BBC. He believes both a lack of ideology and pragmatism have helped Mr Rutte stay in power. "He's been a good fit for the fragmented, difficult times that Dutch governments have faced."
Like many Dutch leaders before him he has a reputation for modest living and hard work. For years he shunned modern smart phones and stuck to an old Nokia.
A very private person, he would go out to dinner every week with his mother in an Indonesian restaurant. She died in a nursing home in 2020 aged 96, weeks into the coronavirus lockdown which had prevented him from seeing her for some time.
His late father was a Dutch East Indies businessman who was 58 when Mark was born. His father's first wife died in a Japanese camp and he then married her sister, Mieke, and they lived in Indonesia until the 1950s.
A bachelor, Mark Rutte was a talented pianist in his youth and contemplated a career in music.
He was the youngest in his family and went to school in The Hague before studying history at Leiden and graduating in 1992. He worked for the Anglo-Dutch multinational Unilever, but he was already active in VVD politics and by 2006 he was leader of the party.
When he became prime minister in October 2010 he was the first liberal to lead a ruling coalition in the Netherlands in more than 90 years.
A political survivor with European influence
He has been through political turmoil before. After two years in office he resigned amid a row over budget cuts. It was a key moment in his political career, setting the tone for years to come.
As he pushed for tougher cuts, his minority coalition lost the support of far-right Freedom Party leader Geert Wilders.
Mr Rutte has successfully fended off the far right ever since, and has continued to talk tough on finances, provoking anger from Southern European countries in the EU.
He promised "not one more cent for Greece" during a 2012 election campaign in the middle of the eurozone crisis, but then backed a multi-billion euro bailout for Athens three years later. That led to a no-confidence vote that he easily won, although Mr Wilders called him the "Pinocchio of the Lowlands".
As Europe's leaders fought off the Covid pandemic, Mr Rutte became known as one of the Frugal Four, antagonising Southern states by demanding reforms in return for extra funding but then accepting them anyway.
That does not mean that he is unpopular in Europe. The Netherlands has held considerable influence in the EU during the Rutte premiership. "He generally seems to be a politician who on a personal level works well with others - and that helps in negotiations," says Prof Louwerse.
An ardent advocate of free trade, Mr Rutte saw the UK vote to leave the EU as a big blow. He is known to admire Winston Churchill and Margaret Thatcher - iconic leaders in British Conservative history - and struck up a friendship with ex-Prime Minister David Cameron.
He warned the UK that outside the EU it would not be "big enough" to play a role on the world stage and said he hated Brexit "from every angle".
Dealing with the far right
Mr Rutte is a shrewd diplomatic operator too. Ahead of the 2017 election, he banned two Turkish ministers from addressing campaign rallies in the Netherlands.
The ban certainly enraged Turkish President Recep Tayyip Erdogan, who called the Dutch people "Nazi remnants" and blamed the Dutch over the notorious 1995 Srebrenica massacre, when Bosnian Serbs shot about 8,000 Muslim men and boys.
But it did the Dutch leader no harm at all. He demanded an apology, calling Mr Erdogan's language "unacceptable", and won a third term in office.
When Mr Wilders told him in a debate that he ought to expel the Turkish ambassador, Mr Rutte drew applause when he replied: "Here we see the difference between sitting on the sofa tweeting and leading the country".
But Mr Rutte has not been averse to taking a firm stance on Dutch values. He made his position clear over an immigrant turned down for a job as a bus driver for refusing to shake women's hands.
In a full-page newspaper ad Mr Rutte said: "If you live in a country where you get so annoyed with how we deal with each other, you have a choice: Get out! You don't have to be here!"
Not lying, but 'remembering things wrong'
His March 2021 election victory was a great personal achievement, and yet weeks later Mr Rutte finds himself badly wounded as a politician, accused of lying, and with his long run as prime minister under threat.
The prime minister, however, denies lying "from the bottom of [his] heart".
But many will find it incredible that days after discussing in coalition talks the future of a popular politician, Pieter Omtzigt, Mr Rutte could not remember the conversation had taken place.
Mr Omtzigt was a whistleblower in the child benefit scandal that brought down the Rutte government in January. When a photographer snapped his name on a file with the words "position elsewhere", the assumption was made that Mr Rutte wanted him out of the political picture.
The prime minister eventually admitted he had "remembered that wrong" but this time the risk for "Teflon Mark" is that the damage finally sticks.
During 12 hours of debate in the chamber, Mr Rutte cut a lonely figure. But armed with 1.9 million Dutch votes his party is standing behind him. Whether he can form another coalition depends on other party leaders too, and they will have the Easter holiday to decide.