Russia's new Arctic Trefoil military base unveiled with virtual tour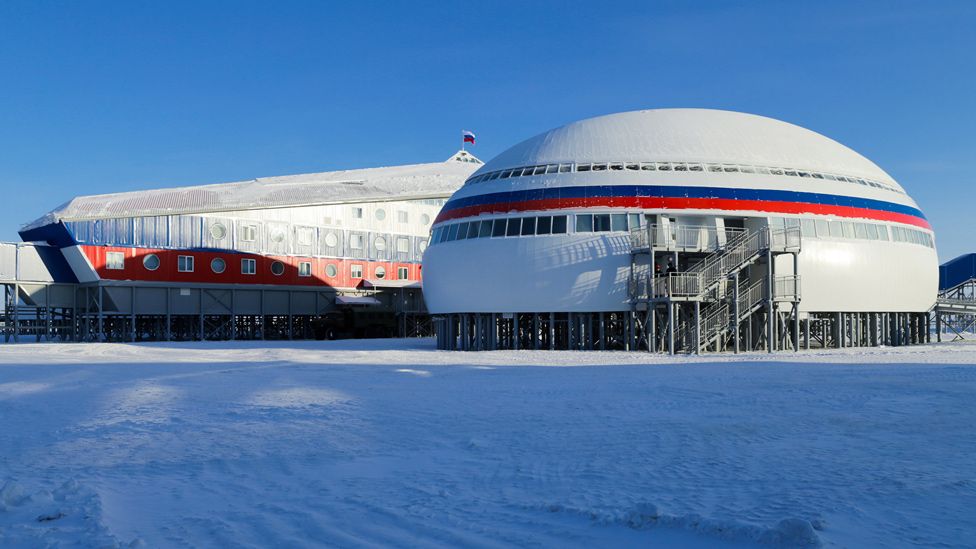 Visitors to the Russian defence ministry website can now take a "virtual tour" of a new military base in a remote region of the Arctic.
Such media openness contrasts markedly with Russia's traditional military secrecy. However, the tour does not show any new military hardware.
The Arctic Trefoil permanent base is in Franz Josef Land, a huge ice-covered, desolate archipelago.
The Russian military sees the resource-rich Arctic as a key strategic region.
President Vladimir Putin visited the new base, on Alexandra Land, last month.
It is built on stilts - to help withstand the extreme cold - and will house 150 personnel on 18-month tours of duty. Winter temperatures typically plunge to minus 40C.
Covering 14,000sq m (151,000sq ft), it is the second Putin-era Arctic base to be built for air defence units. The first base to be completed was Northern Clover on Kotelny Island, further east.
A military airstrip is also under construction in Franz Josef Land, called Nagurskoye.
Russia is building four other Arctic military bases - at Rogachevo, Cape Schmidt, Wrangel and Sredniy.
Experts say the melting of Arctic sea ice - generally attributed to climate change - is making the polar seas more accessible for shipping. That could make it easier to prospect for untapped energy and minerals in the region.
The 360-degree virtual tour shows the main living quarters at Arctic Trefoil, including a central five-storey atrium. The "trefoil" name refers to the main block's three wings.
The base is self-sufficient in electricity, and equipped with a clinic, library, chapel, gym and cinema.
A military expert quoted by RIA news agency, Col (Rtd) Viktor Litovkin, said Russia was pursuing several strategic goals in the Arctic:
Control of international shipping on the Northern Sea Route, including providing alerts about icebergs and severe weather
Protecting Russian oil and gas resources in the Arctic
Defending Russia against any intrusion by foreign warships and missile threats.